a
Naval Forces News - Australia
Australian ANZAC class Frigate Returns to the Fleet Following Upgrade & New Paint Scheme
HMAS Warramunga returned to the water on 8 April after over a year out of the water in upgrade. Warramunga is the fourth Anzac class frigate to undergo the Anti-Ship Missile Defence upgrade program, a world class program that provides an enhanced sensor and weapons systems capability.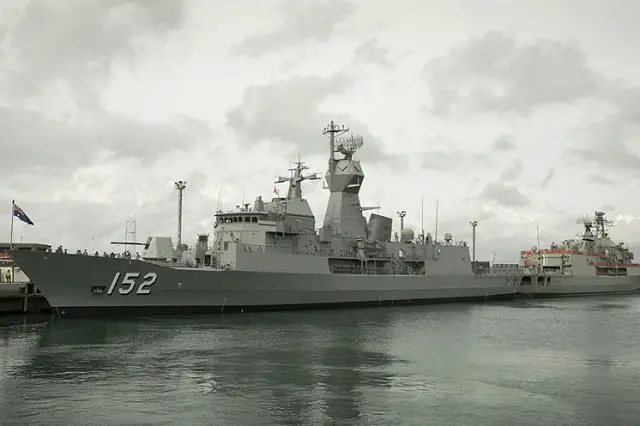 HMAS Warramunga completes its cold move from the BAE Systems Henderson Shipyard arriving alongside Oxley Wharf at Fleet Base West. Astern is HMAS Parramatta which will move to Henderson later in the year to continue the upgrade program. Warramunga is the first ANZAC class frigate to receive the new darker grey colour scheme which evident when seen with Parramatta.
Picture: Royal Australian Navy/CPOIS David Connolly

The upgrade showcases Australian design and integration capability, with new Phased Array Radar technology designed by CEA Technologies in Canberra, upgrades to combat systems performed by Saab Systems in South Australia, and platform integration design by BAE Systems in Victoria. In addition to this a substantial maintenance package is also completed to ensure compliance with the tenets of seaworthiness.

In a significant moment for Navy, Warramunga is the first fleet unit to be painted in the new 'Haze Grey' paint scheme. This new scheme replaces over 60 years of the 'Storm Grey'. This new polysiloxane paint has improved durability and fire resistance qualities over the older polyurethane paints. Moreover, near infrared reflecting pigments means that the new grey paint scheme has improved tactical utility.

HMAS Warramunga will remain at Fleet Base West to complete the maintenance package and the long process of Harbour Acceptance Trials and seaworthiness boards. Concurrent with this effort, the ship's company is also preparing HMAS Parramatta to enter the upgrade in the coming weeks.

On 31 March a naming ceremony was undertaken at Fleet Base West to recognise the official transfer of the ship's company from HMAS Parramatta to HMAS Warramunga. The date was symbolic as it was the 14th birthday of HMAS Warramunga II, which was commissioned in the Navy at Station Pier, Port Melbourne in 2001.

"It is appropriate that we chose today, Warramunga's 14th birthday, to take the Warramunga name and make it ours," Commanding Officer Commander Andrew Willis said.

During the ceremony the Frigate Group Capability Manager, Captain Malcolm Wise, passed Warramunga's command weight to Commander Willis to signify the assumption of command. The accompanying change of ball caps and uniform patches symbolised the transfer of the ship's company.

On completion of trials, Warramunga will return to her new home port - Sydney, in September 2015.