a
Naval Industry News - Spain, Australia
Navantia Launched The Last LCM-1E LLC Fast Landing Craft for The Royal Australian Navy
Navantia has launched on 27th. April 2015 the twelfth and last LLC fast landing craft being built for the Royal Australian Navy. The design of these ships is based in the fast landing crafts built also by Navantia for the Spanish Navy between 2006 and 2008.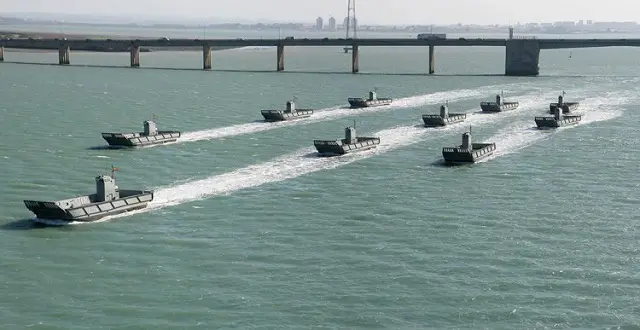 LCM-1E landing crafts
(picture: Navantia)
The contract for the construction of the series of 12 LLC was signed in September 2011 and the works have been executed in the Bay of Cádiz. The landing crafts are destined to operate with the ALHD "Canberra" and ALHD "Adelaide", strategic projection ships, similar to LHD "Juan Carlos I", also built by Navantia in cooperation with BAE Systems. It is scheduled all the ships are delivered on summer 2015.

The main characteristics of the ships are:
-- Length overall: 23.30 m.
-- Floatation length: 21.27 m.
-- Width: 6.40 m.
-- Depth: 2.80 m.
-- Propulsion: two 809 kW diesel engines, two waterjets propellers
-- Speed: more than 20 knots
-- Autonomy: 190 miles at full load
-- Loading capacity flexibility: Abrams vehicle, several Army vehicles, fusiliers' company or 20 feet container truck.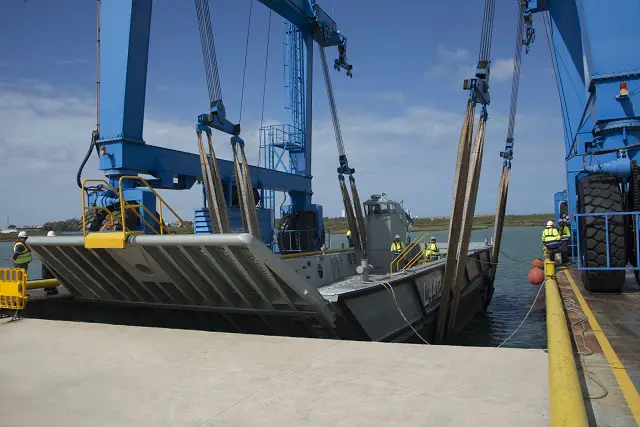 The lastLCM-1E LCC for the ALHD "Canberra" floated at Navantia San Fernando
(picture: Navantia)
Australia is a strategic country for Navantia and has opened a subsidiary, Navantia Australia in order to cooperate with the Australian Government in future options for its Navy. Recently, it has won several important contracts for the life cycle support of the ships and for the adaptation of Australian requirements to the Navantia designs.