a
Naval Forces News - Vietnam
Vietnam Navy Procuring Club Cruise Missiles for its Russian-Made Project 636 Kilo Class Submarines
According to German weekly news magazine Der Spiegel, the Vietnamese navy is in the process of procuring Club cruise missiles from Russia for its Kilo class (Project 636) diesel electric submarines (SSK) which started to be delivered last year. If the report is accurate, Vietnam would become the first Southeast Asian nation with a submarine launched land attack cruise missiles capability.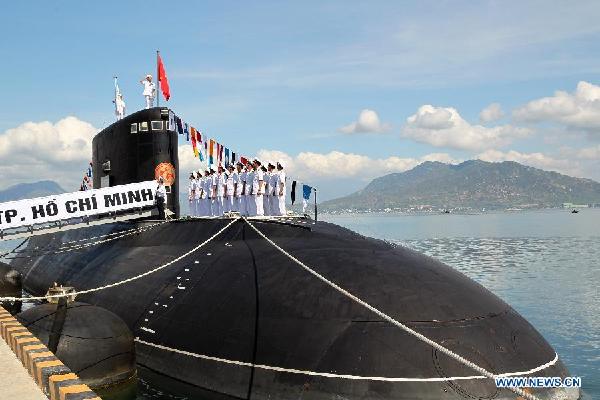 Vietnamese soldiers attend a flag-raising ceremony held for the first two submarines at Cam Ranh base, in the central province of Khanh Hoa, Vietnam, April 3, 2014. The HQ 182 Hanoi and HQ 183 Ho Chi Minh City submarines are two of the six Kilo-class submarines Vietnam purchased from Russia under a contract signed in 2009. (Xinhua/VNA)
According to Rosoboronexport, Project 636 SSK proved highly effective while operated by naval forces of several countries.

Unparalleled in her technical and operational specifications, the ship is designed to conduct effective anti-sub warfare along with the capability to engage surface ships and coastal targets of potential adversary striking operations both independently or as part of a larger task force. Increased output of the main propulsion plant allowed to enhance significantly her submerged speed alongside with endurance range up to 7500 miles. Furthermore, she is one of the world's quietest diesel-electric submarines providing guaranteed early enemy detection and long-range attack as well as evasive maneuverability and concealment.
Navy Recognition interview with Novator Club Missile Systems Expert, during IMDS 2013
Designed by Russian company JSC Experimental Machine-Design Bureau "Novator", tThe Club familly of missiles consists of both surface launched (Club N) and Submarine launched (Club S) missiles.

3M-14E and 3M-14TE are land attack cruise missiles. 91RE1 and 91RTE2 are anti-submarine missiles, 3M-54E and 3M-54TE are anti-ship cruise missiles with a stage capable of supersonic speeds.

In the case of the Vietnamese Navy Kilo class SSK, the missiles about to be procured are the submarine launched variant:
3M-14E (land attack)
Land Attack variant with inertial navigation guidance, it has a length of 6.2 meters with a 400 kg warhead and a range of 275 km. Speed: subsonic;

and likely the 3M-54E (anti-ship)
Anti-ship variant, 8.22 meters long with a 200 kg warhead and a range of 220 km. It starts flying at subsonic speed then becomes supersonic (Mach 2.9) at sea-skimming (5 meters above surface) level in terminal phase. It is capable of evasive maneuvers to avoid radar or IR detection.