a
Naval Defense Industry News - France, Sweden
Sagem to Provide Optronic Masts for Swedish Navy Gotland class Overhaul & Future A26 Submarine
Navy Recognition learned that French defense company Sagem will supply its latest periscope system for the Swedish Navy Gotland class (A19) diesel-electric submarines (SSK) overhaul as well as for the future A26 SSKs.
Sagem new Series 30 optronic mast systems with modular heads: Search (left) and Attack (right)
According to Sagem, The Series 30 is the most modern and complete optronic surveillance mast on the market. Its four simultaneously operational sensors, image processing and operating modes make it perfect for advanced detection of airborne or surface threats. It can equip both classic and nuclear submarines, whether new or retrofit units.
The Series 30 is a non-penetrating mast designed for above-surface surveillance: navigation safety, surveillance, intelligence collection and self-protection combining electronic and optronic warfare. Compatible with a full range of electromagnetic antenna (GPS, ESM, early warning and communication), it includes a high-definition thermal imager as well as a high-definition camera, and can simultaneously accommodate a low-light level, anti-blooming camera and a laser range finder.
Its four optronic sensors, which can be used simultaneously to obtain panoramic scene captures in record time, are the fastest on the market. Known as the "Quick Look Round" feature, it enables panoramic or segment displays in separate, full resolution or compressed windows. This mode is available in addition to the conventional, live display of the different video channels.
Sagem's Series 30 masts are already in production for the Scorpène class submarines built by French naval shipyard DCNS for international markets, and for the future Suffren class nuclear attack submarines in the French Navy's Barracuda program. It was also selected for
South Korea's new KSS-III submarines.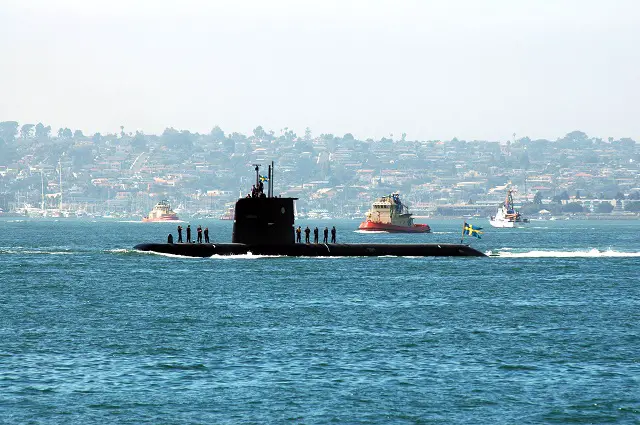 The Swedish diesel-powered attack submarine HMS Gotland transits through San Diego Harbor. Picture: US Navy
The Gotland-class submarines of the Swedish Navy are diesel-electric submarines, which were designed and built by Kockums shipyard in Sweden. In March 2013, Kockums (now part of Saab) received an order for an overhaul for two of the Gotland-class submarines. The overhaul is expected to be completed by 2017. With these upgrades, the submarines will be able to remain in active duty until after 2025. On 2 April 2014, the Swedish defence minister announced that all three submarines are to be overhauled.
It was announced earlier this year that American company
Exelis would supply new EW systems
and
Norwegian company Kongsberg would supply sonar and multibeam systems
, all as part of the Gotland class overhaul.
Saab new generation SSK Kockums A26, will be designed for mainly littoral operations but will also possess ocean-going capabilities. Picture: Saab
According to Saab, the new generation Submarine, with denomination Kockums A26, will be designed for mainly littoral operations but will also possess ocean-going capabilities. The Swedish Government has approved initiation of the design phase for a new generation submarines for the Royal Swedish Navy.

It will be powered by a conventional diesel-electric propulsion machinery, and equipped with Kockums Stirling AIP system (air-independent propulsion). The Stirling system, together with a set of balanced underwater signature properties, will make Kockums A26 submarine very stealthy and difficult to detect. It will also be highly invulnerable to underwater explosions through a verified shock resistance.

Kockums A26 design includes a new innovative flexible payload capability with a flexible payload lock system in addition to its conventional torpedo tubes. Furthermore it will be prepared for network connectivity. A highly modular design facilitates efficient through-life upgrades and adaptations.