a
Maritime Security News - Israel
Windward to use Horizons Ventures-Led Strategic Investment to Expand Maritime Data Platform
Windward, a maritime data and analytics company, today announced a strategic investment of $10.8 million led by Horizons Ventures, with participation from Series A investor, Aleph, and other leading investors in the financial community. This strategic investment will accelerate Windward's ability to build the largest, most comprehensive maritime data and analytics platform in history. In addition, it will make those insights accessible for anyone with stakes at sea, with a solution for the financial sector scheduled to launch later in 2015.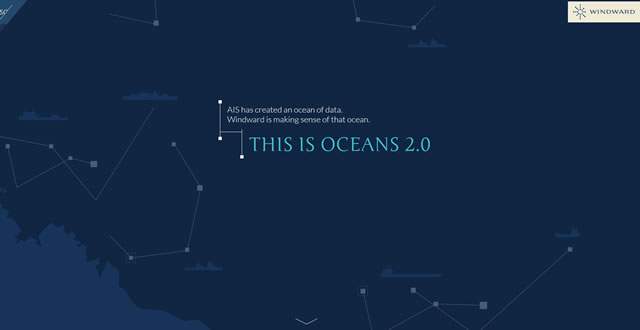 "Ship activity across the oceans fuels the global economy but is one of the last analog arenas. The Windward team is revolutionizing this archaic system and bringing visibility to this critically important domain, advancing the global ecosystem," said Jason Wong of Horizons Ventures.

Windward's intelligence solution, MARINT, is already in wide use by Security, Intelligence and Law Enforcement agencies worldwide, who use Windward's data and insights to preemptively identify threats before they reach their shores. The funding by Horizons Ventures, Aleph and other financial investors will enable Windward to expand its deep learning capabilities via its unique data platform - the Windward Mind - and to operationalize FORESEA, its finance solution. Currently, FORESEA is in beta testing as the first significant vertical extension of the Windward Mind and is providing traders, investors and analysts with access to unprecedented amounts of unstructured data, critical insights and untapped market opportunities.

"The Windward Mind, the world's first maritime data platform, brings cross-vertical and industry visibility into ship activity worldwide that is critical given the economics at stake," said Ami Daniel, co-Founder and CEO of Windward. "We are honored to have Horizons Ventures join our journey. Horizons has a unique perspective as a seasoned investor in some of the world's most disruptive tech companies; their involvement will provide us with many valuable opportunities for innovating this analog world."

In addition to funding support, Windward will be adding top advisors to its boards. A member of Horizons will be joining Windward's Board of Directors. Additional investors include Tom Glocer, the former CEO of Thomson Reuters, who will also be joining Windward's Advisory Board and bringing his invaluable perspective from a world leader in delivering information to decision makers in professional markets. Ret. Lieutenant General Gabi Ashkenazi, the former IDF Chief of Staff and former CEO of the Israeli Ministry of Defense, is also joining Windward's Advisory Board, with a depth of understanding of the security domain. In addition, Danielle Ullner has joined Windward as Chief Operating Officer. Ullner is the former VP of Strategic Partnerships at Perion, and will focus on deepening partnerships and access across the shipping and ports ecosystem.

"Windward is a game changer because it is bringing a data sciences perspective to today's maritime data and making it accessible and relevant for the entire ecosystem," commented Glocer. "Financial institutions, the next market for Windward's unique data platform, are hungry for advanced data solutions that can provide valuable trading opportunities by extracting faint trading signals from noisy datasets such as maritime information."