a
Naval Forces News - India
Indian Navy Aircraft Carrier INS Vikramaditya to be Upgraded with Defensive Weapon Systems
According to local media, the Indian Navy aircraft carrier INS Vikramaditya (R 33) will soon enter its first scheduled maintenance. As part of this scheduled maintenance, several new weapon systems will be fitted on board the aircraft carrier. Work is to be carried out at the Naval Ship Repair Yard in the new naval base at Karwar, where is based INS Vikramaditya.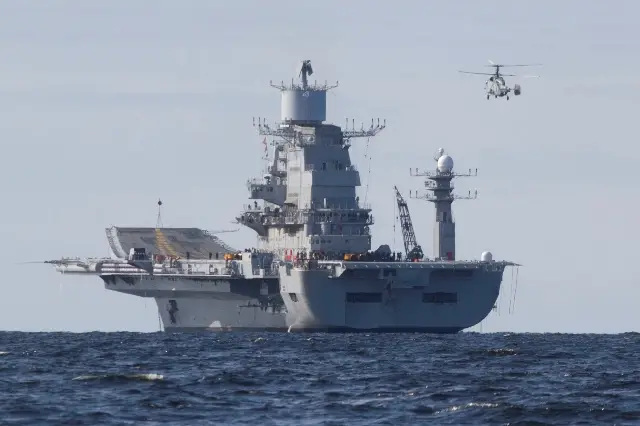 INS Vikramaditya, ex-Admiral Gorshkov, during the current sea trials
Picutre: Sevmash

The new systems to be installed include Israeli made (Rafael) Barak 1 surface-to-air missile systems (in Vertical Launch Systems) and four 30mm six-barrel AK-630 Close In Weapon System guns. The systems will be taken off decommissioned Project 16 Godavari class Frigates.

The Vikramaditya, previously known as the Admiral Gorshkov, is a Soviet-made Project 1143.4 class aircraft carrier. It was sold to India in 2004. The refit that lasted eight years was the subject of a dispute between the two sides over cost. It was handed over to the Indian navy on November 16 2013 at the Semvash shipbuilder and departed from Russia on November 26.

INS Vikramaditya is in a STOBAR configuration, with a 14.3 degree ski-jump on the bow and three arrestor wires on the stern of the angled deck. This allows the operation of 16 MiG-29K (and KUB) or Sea Harrier fighter aircraft and 10 helicopters.