a
Naval Defense Industry News - USA
Raytheon Surveillance Technologies, Analytics Proven Aboard Navy Stiletto Experimental Vessel
The U.S. Navy has successfully tested Raytheon's advanced intelligence, surveillance and reconnaissance (ISR) technologies aboard the experimental ship known as the M80 Stiletto, while the vessel was underway. The test took place during operations at Joint Expeditionary Base Little Creek-Fort Story, Virginia.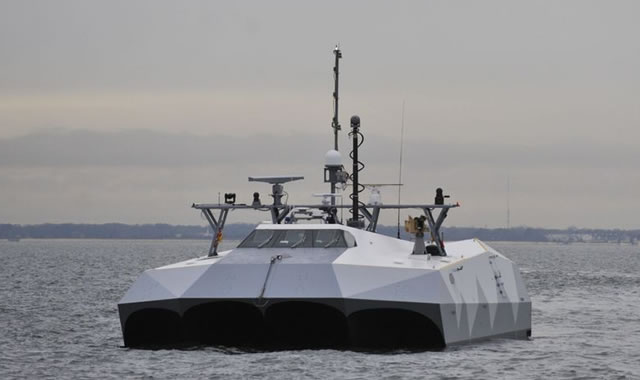 The Stiletto is a unique, maritime demonstration craft developed by the Defense Department to test littoral warfare concepts.
The combined technology was created by combining two, proven Raytheon technologies: the Persistent Surveillance System Cross Domain Solution (PSS CDS) and Intersect™ Sentry. The successful test was conducted as part of the Stiletto Maritime Technology Demonstration Program.

PSS CDS receives critical data from multiple sensors and offers two-way sharing of information and commands across both classified and unclassified domains. Intersect™ Sentry is an automation and analysis tool that creates alerts from a variety of intelligence, sensor and reconnaissance data streams according to parameters defined by the user. Both systems have been successfully demonstrated in support of joint and coalition maritime operations.

"Raytheon has created two capabilities that are easily reconfigured for deployment on multiple missions," said Bob Dehnert, Command, Control and Awareness director for Raytheon Intelligence, Information and Services. "They give warfighters proven, automated information sharing and analysis support for surveillance missions in any domain."

During the Navy demonstration, Intersect™ Sentry automatically analyzed data streams and sent alerts to the PSS CDS for simultaneous display across various networks, creating a common operating picture for different users operating at multiple classification levels.

The recent capability demonstration, designated CD 15-2, was one of a series sponsored by the Assistant Secretary of Defense for Research & Engineering. The Stiletto Maritime Demonstration Program and the Stiletto vessel are operated by the U.S. Navy, Naval Surface Warfare Center, Carderock Division.