a
Naval Forces News - USA
US Navy Completes First Sea Trials for MAGIC CARPET Software to Assist F/A-18E/F/G Landing
US Navy Naval Air Warfare Center Aircraft Division engineers and test pilots successfully completed the first at-sea testing of the newly-developed F/A-18 flight control software on USS George H. W. Bush (CVN 77) April 20.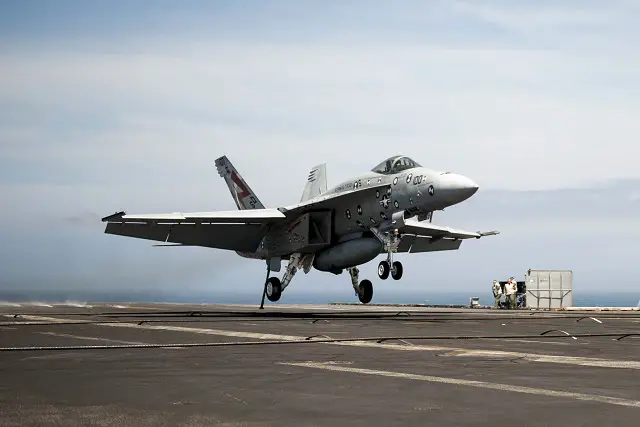 "Salty Dog 100," an F/A-18F Super Hornet assigned to Air Test and Evaluation Squadron (VX) 23 at Naval Air Station Patuxent River, Md., lands on USS George H. W. Bush (CVN 77) Apr. 20, 2015. The landing was part of the first sea trials for MAGIC CARPET, new flight control software and display symbology for F/A-18 aircraft designed to make carrier landings less demanding for Navy pilots.

The Maritime Augmented Guidance with Integrated Controls for Carrier Approach and Recovery Precision Enabling Technologies, or MAGIC CARPET, is designed to make landing on an aircraft carrier easier by incorporating direct lift control, an augmented pilot control mode that maintains a commanded glideslope, and improvements to heads-up display symbology tailored for the shipboard landing task.

Navy test pilot Lt. Brent Robinson hit the two wire as planned when he landed "Salty Dog 100," an F/A-18F Super Hornet assigned to Air Test and Evaluation Squadron (VX) 23.

"This was a huge technology milestone in the history of carrier landings," said Robinson, MAGIC CARPET project officer. "What we saw at sea was essentially the same as the land-based testing we did at [Naval Air Station Patuxent River]. We are still analyzing the data, but from the [landing signal officer's] position, the landings looked very good."

NAWCAD engineers and VX-23 test pilots specifically used the two wire for testing because unlike most Nimitz-class carriers, CVN 77 has 3 arresting gear wires and aiming for the number 2 wire is standard operating procedure.

The flight test team, which included engineers from NAWCAD, the Atlantic Test Ranges, and industry partner Boeing, executed more than 180 touch-and-go landings with 16 arrested landings in the advanced control modes during three days of testing. The two F/A-18F test aircraft were flown in both nominal and off-nominal approaches and in varying wind conditions.

The engineering group responsible for developing the flight control software, new heads-up displays, and simulators was encouraged by the sea trials.

"This initial sea trial confirmed that carrier landings can be achieved at lower pilot workload while maintaining or reducing current touchdown dispersions performance," said James "Buddy" Denham, a senior engineer in the aeromechanics division at NAVAIR. "The results from this test clearly show the benefits we expected to achieve with this level of flight control augmentation. The data we have now collected in both the F/A-18E/F Super Hornet and the F-35C Lightning II in the Delta Flight Path mode show that the Navy's fleet of tactical aircraft, to include the EA-18G Growler, is well on its way with a safer, more predictable method of accomplishing the unique naval aviation task of shipboard landings."

According to Lt. Cmdr. Daniel Radocaj, carrier suitability testing department head at VX-23, MAGIC CARPET reduces touchdown dispersion, which refers to the repeatability of aircrafts' tailhooks to land in approximately the same spot on the carrier deck, and improves the overall success rate for carrier landings.

As an added benefit, MAGIC CARPET can help to minimize hard landings, reduce the number of required post-hard landing aircraft inspections, and improve overall aircraft availability. The results from this initial round of testing give good confidence that MAGIC CARPET can provide substantial benefits to reduce initial and currency training for pilots and lower the costs of Naval Aviation, said Radocaj.

Test pilots, engineers, and landing signal officers (LSO) from VX-23 will continue to test MAGIC CARPET demonstration software on F/A-18E/F aircraft for the remainder of 2015 and early 2016. Production-level software for the Fleet is scheduled to start flight testing in 2017, with general fleet introduction to follow via the F/A-18 and EA-18G program office.