a
Naval Defense Industry News - Qatar
DIMDEX 2016, 5th Doha International Maritime Defence Exhibition & Conference, Officially Launched
DIMDEX 2016, the fifth Doha International Maritime Defence Exhibition and Conference, held under the patronage of His Highness, The Emir, Sheikh Tamim Bin Hamad Al-Thani, was officially launched during a press conference held at IDEF 2015, the International Defence Industry Fair in Turkey.
Navy Recognition interviewed Staff Brigadier (Sea) Abdulbaqi S. Al-Ansari, DIMDEX 2016 Deputy Chairman, during IDEF 2015.
Taking place from 29 to 31 March next year, DIMDEX 2016 is organised and hosted by the Qatar Armed Forces and will take place in the Qatar National Convention Centre in Doha.

The DIMDEX team is attending IDEF as part of a Qatar delegation and made a series of announcements relating to the show at a press conference to formally launch the build up to DIMDEX 2016.

Speaking at the press conference on behalf of Brig. Dr. (Eng) Thani A. Al-Kuwari, Assistant Minister of State for Defence Affairs for Financial Affairs and Chairman of DIMDEX, Staff Brigadier (Sea) Abdulbaqi S. Al-Ansari, DIMDEX 2016 Deputy Chairman said: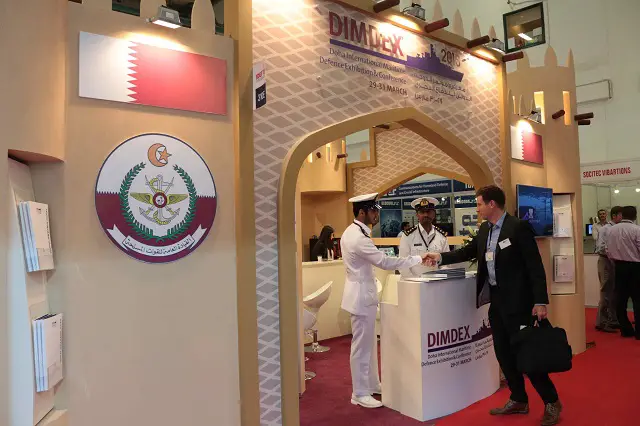 DIMDEX Stand at IDEF 2015

"Under the guidance of our patron, His Highness, The Emir, Sheikh Tamim Bin Hamad Al-Thani, and with the Qatar Armed Forces organising DIMDEX for the first time, DIMDEX 2016 has the very highest backing and support that strengthens DIMDEX's international reputation as a leading maritime and naval defence exhibition and conference. DIMDEX 2016 will again be the perfect place for key decision-makers, experts, vendors and buyers from all over the world to congregate and discuss the latest naval and maritime security solutions, and the Qatar Armed Forces looks forward to welcoming our guests both old and new to Doha in March next year."

He added: "DIMDEX 2016 is launching at IDEF as Turkey has been a continually strong supporter of the show, with IDEF again proving this year to be an excellent platform to foster relationships between DIMDEX and the Turkish defence industry."

The DIMDEX team stated that DIMDEX 2016 is on course to be the largest and best edition of the show to date and the Qatar Armed Forces will now organise, as well as host the show.

DIMDEX has grown year on year since 2008 to become comparable in size with the largest shows of its type in the world. DIMDEX's growth is set to continue with an expected increase in number of exhibitors and greater exhibition space planned for DIMDEX 2016. DIMDEX 2016 is also expanding in scope to cover more sectors including maritime aviation, naval base security, unmanned aerial vehicles (UAVs), maritime patrol aircrafts and coastal surveillance systems. Combined with a buoyant market for the assets on display, the DIMDEX team is confident that DIMDEX 2016 will be a historically successful event.

DIMDEX 2016 will follow the successful format of previous editions, with the exhibition complemented by the high-level Middle East Naval Commanders (MENC) Conference offering a comprehensive insight into the key factors influencing the maritime defence industry in the region, VIP delegations and the visit of warships to Doha Commercial Port.