a
Naval Defense Industry News - Italy
At IDEF 2015 WASS Showcased the Black Scorpion and Black Arrow torpedoes
Italian company WASS (member of Finmeccanica) was showcasing two of its latest toperdo systems during IDEF 2015 (the International Defence Industry Fair currently held in Istanbul, Turkey). The Black Scorpion mini torpedo designed to support the contact classification process and the Black Arrow new generation lightweight torpedo.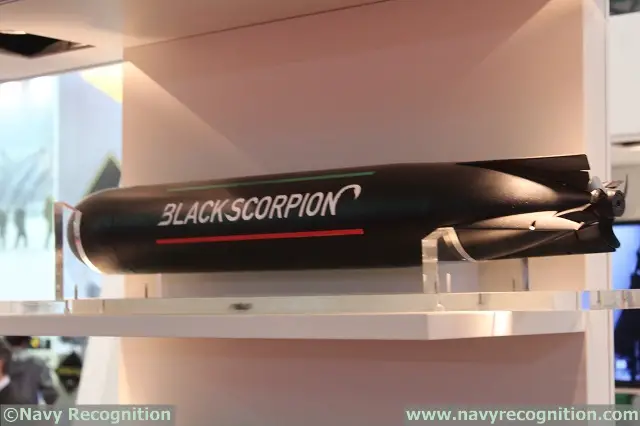 A Black Scorpion mini torpedo model on WASS stand during IDEF 2015
Talking to Navy Recognition during IDEF 2015, a WASS representative explained that the Black Scorpion was designed to be launched from sonobuoy tubes found on board ASW helicopters and Maritime Patrol Aircraft. The mini torpedo is intended to be used when the submarine contact is not accurate. The Black Scorpion "pings" in the water which either locates the target or forces the target to move. Black Scorpion retains the abillity to hit the target and induce damage with its small warhead.

In a complex international scenario in which the ASW is rapidly moving from deep blue waters to littoral and coastal areas warm shallow waters, the operational ambient conditions for sensors and weapons is turning out to be very crytical for them to perform efficiently: warm shallow waters multiply "false targets" and create "false alarms" as the noise propagates through the water, interacting with seabed, sea surface or submerged objects. Hence the FAR (False Alarm Rate) increases tremendously.

In addition, the increasing number of conventional mini submarines (midgets) in the modern warfare scenario has widened the range of threarts which navies must be able to detect. All this has called for modern reliable weapons designed to raise the level of confidence of the sonar contact with a low cost flexible and efficient process.

WASS has accomplished synergy with the technology developed in the field of MTE countermeasures system, has upgraded some weapon sections in electronic, sensors and energy fields and has created a very small (5") torpedo: the Black Scorpion.

Main features:
» Capacity of operating in shallow waters at sea depths ranging from 30 to 200 meters
» Highly resistant structure
» Enough payload capacity to counteract conventional submarines/midgets and abort their missions
» Capacity of setting sea surface searches cut out for collision against the quick-works of small watercrafts
» Max speed higher than 15 knots
» Exercise version available

The Black Arrow torpedo model on WASS stand during IDEF 2015
Also on display on WASS stand during IDEF 2015 was the Black Arrow torpedo. The WASS representative explained that this new generation lightweight torpedo is an evolution of the MU90 and A244 and its main strength is its reduced life cycle cost.

Status
Black Arrow was fully designed and developed by WASS to meet all challenging operational requirements for ASW. Altough derived from technology generated by WASS in the development of A244/S Mod.3, A290 and MU90 LWT and of Black Shark HWT, Black Arrow includes a number of conceptual innovations and inventions which makes it uniquely capable in the world, in terms of flexibility, performances and reduced life cycle cost.

Description
Black Arrow is the New Lightweight Torpedo entirely designed by WASS with the purpose of facing threats represented by conventional, nuclear submarines and ships.

Black Arrow is the result of the technology developed by WASS to create the other lightweight torpedoes A244/S Mod. 3, MU90 and the heavyweight torpedo BLACK SHARK; however, it involves a number of conceptual innovations and inventions that make it practically unique in the world as regards flexibility, performances and cheap maintenance for the whole life cycle of the product.

Black Arrow is designed to be launched from conventional platforms (ships, aircrafts and helicopters) and other ones like UAV (Unmanned Aircraft Vehicle) and USV (Unmanned Surface Vehicle).

It has got a rechargeable battery with lithium-polymers technology that makes it particularly cost-effective; in fact, unlike the conventional lightweight torpedoes that foresee a one-shot battery, it can be launched many times in exercise configuration without the need to replace it.

The Navigation System is formed by an inertial platform called IMU (Inertial Measurement Unit), a pressometer and a dedicated piloting software. Four independent rudders placed at 45° with respect to the ground plane optimize its possibility of being maneuvered and controlled in the space, thus enabling it to perform extremely accurate manoeuvers.

Black Arrow represents an "insensitive" weapon according to the NATO rules and it can be configured both with a directive and an omnidirectional war head.