a
Naval Forces News - Russia
Russian Navy Aircraft Carrier Kuznetsov in Dry Dock for Unknown Reasons and Length of Time
Russia's sole aircraft carrier, The Admiral Kuznetsov, went into the dock of a shipyard in north Russia for repairs, the Northern Fleet's press office reported on Thursday, giving no timeframe for the repairs. "The repair workers will first make the ship's inspection in the dock, after which a decision will be made on the scope of the repairs," the fleet's press office said, adding the repairs would be carried out by specialists of the 82nd shipyard at Roslyakovo in the Murmansk Region.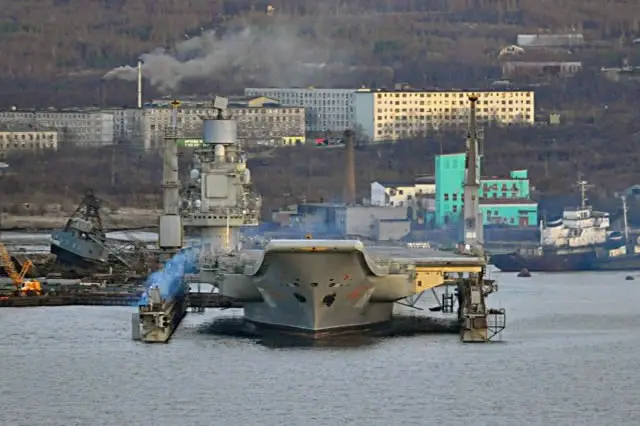 Russian Navy Aircraft Carrier "Admiral Kuznetsov" entered the dock 82 Shipyard in Severomorsk on Wednesday, May 13. Picture: Flotprom.ru

The aircraft carrier performed its last long-distance voyage in May 2014, mostly sailing in the Mediterranean Sea.

The Northern Fleet's press office earlier reported that deck-based aircraft pilots had been on combat duty aboard the Admiral Kuznetsov responsible for air defense of a Russian Navy task force.