a
Naval Defense Industry News - South Korea
DSME Launched The Sixth Type 214 – KSS-2 Diesel Electric Submarine For ROK Navy
South Korean shipbuilder Daewoo Shipbuilding and Marine Engineering (DSME) has launched the Republic of Korea Navy's (ROKN) sixth KSS-2 (Type 214) diesel-electric submarine (SSK). The submarine is nammed "Yu Gwan-sun", a patriotic martyr who died in her youth while struggling against Japanese coercion.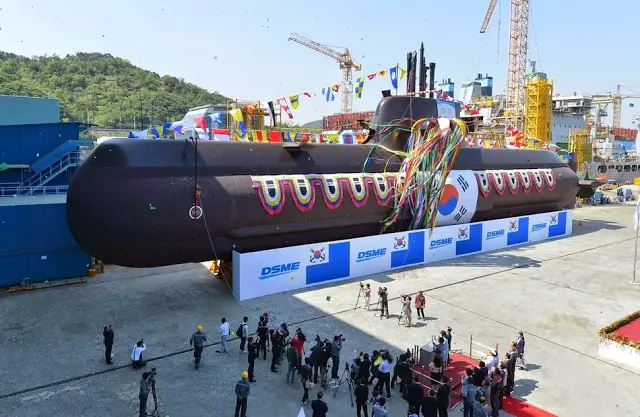 RoKS Yu Gwan-sun (078) is the sixth Type 214 SSK of the ROK Navy

The 65 m, air-independent propulsion (AIP) submarine RoKS Yu Gwan-sun (078) was launched in Geoje at 2:00 pm local time on 7 May. DSME was also responsible for building the fourth boat in the class, Kim Jwa-Jin (076).The KSS-2 class is powered by two MTU engines and has a top speed of 20 kt submerged and 12 kt surfaced. The SSKs are armed with eight 533 mm torpedo tubes and can dive to depths of up to 400 m. The submarines are also capable of floating sea mines.

Citing the RoKN, South Korean state news agency Yonhap reported on 7 May that the navy planned to commission Yu Gwan-sun in November 2016.