a
Naval Forces News - USA, Australia
MH-60R Foreign Military Sales team supports Royal Australian Navy
A team of U.S. Navy and defense industry contractors recently delivered an advanced helicopter training device to the Royal Australian Navy. The MH-60R Foreign Military Sales (FMS) team from the Naval Aviation Training Systems Program Office (PMA-205) and Naval Air Warfare Center Training Systems Division, in conjunction with CAE USA of Tampa, Florida, defined and procured training devices to support aircrew proficiency and real-world mission rehearsal for the Royal Australian Navy (RAN) in February.

Picture: CAE
The simulator delivered to the RAN includes a full-motion, operational flight trainer (OFT), which will prepare pilots and co-pilots for flight, as well as a weapons tactics trainer (WTT) to guide sensor operators in the helicopter. The OFT and WTT can be operated as standalone devices, or combined to form a tactical operational flight trainer (TOFT), which provides comprehensive aircrew mission training. The MH-60R training devices are now installed at the RAN's training facility in New South Wales at HMAS Albatross, home of the RAN's Fleet Air Arm.

"I'm really proud of the hard work, dedication and time our FMS team put in to deliver the first MH-60R TOFT to the Royal Australian Navy," said Capt. Craig Dorrans, PMA-205 program manager. "The state-of-the-art TOFT will serve as a catalyst for operational flight preparation and weapons tactics training for the RAN."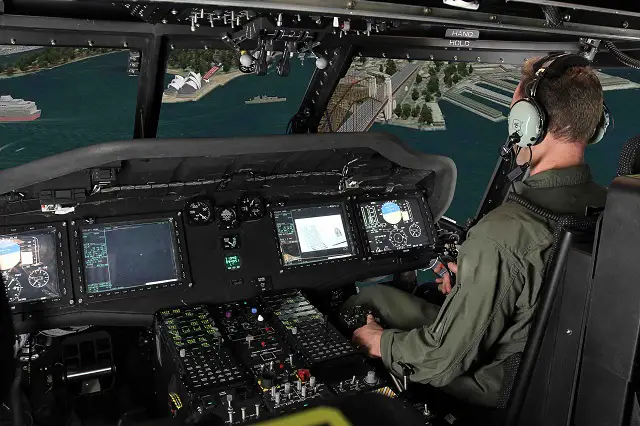 A military representative "flies" the MH-60R Seahawk tactical operational flight trainer over Sydney, Australia, during a recent simulation event. In February, the Royal Australian Navy procured a trainer, similar to the one in this photo, to support training capabilities for its new MH-60R Seahawk fleet. (Photo courtesy CAE)
The RAN aircrew and maintainers began training at the U.S. Navy's schoolhouse at Naval Air Station Jacksonville, Florida, in spring 2013. The RAN returned to its newly constructed Seahawk Simulation and Warfare Centre after completion in March with its first TOFT, as well as an Avionics Maintenance Trainer/Weapons Load Trainer. A second TOFT is scheduled for delivery in 2016 along with four more maintenance and part-task trainers scheduled over the next several years.

The RAN selected the U.S. Navy's MH-60R Seahawk in 2011 as its new anti-submarine/anti-surface warfare helicopter after seeking to replace its existing S-70B-2 Seahawk helicopters.

The MH-60R training devices are used to train pilots, co-pilots and sensor operators in the complete range of missions flown by the MH-60R Seahawk helicopter.