a
Naval Defense Industry News - UK, Sweden, Brazil
BAE Systems 40 Mk4 Naval Gun Selected By Brazilian Navy for 500T "Macae" Class Patrol Vessels
BAE Systems has been awarded a contract to produce and deliver five
Bofors 40 Mk4 40 mm single-barrel naval guns
for the Brazilian Navy's 500T "Macae" Class Patrol Vessels. The 40 Mk4 gun is the latest naval version of the successful Bofors 40mm Gun that is used by many Navies and Coast Guards around the world.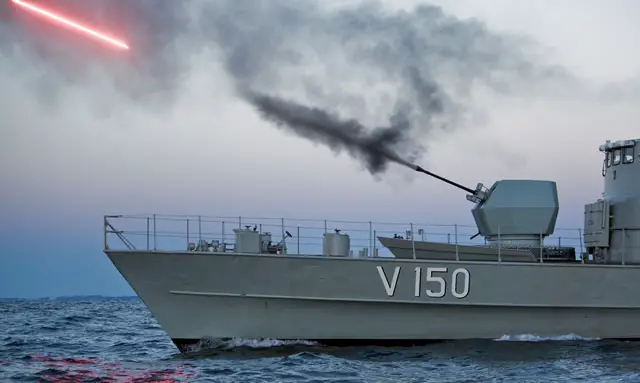 40 Mk4 gun during firing tests
(Picture: BAE Systems)
"The versatility of our new 40mm Naval Gun and Ammunition System is attractive to customers around the world," said Lena Gillström, managing director of Weapon Systems, Sweden at BAE Systems. "This award illustrates our strong position as a leading naval gun provider in the Americas."

Series production for the guns starts immediately with deliveries beginning in 2016 and continuing through 2018. A portion of the manufacturing of parts, subsystems, as well as final assembly and test will take place in Brazil through BAE Systems' new and long-term partners. The company recently teamed with Ares Aeroespacial e Defensa S.A. of Rio de Janeiro for manufacturing, assembly, and installation, as well as after-sales activities for the 40 Mk4 guns.
Brazilian Navy Macaé class
"This local production for the naval guns illustrates our commitment to establishing mutually beneficial partnerships with Brazilian industry," said Llyr Jones, vice president for Latin America and Canada at BAE Systems. "We're applying similar principles with our other Brazilian programs."
In the last 40 years, BAE Systems has delivered close to one hundred 40mm Guns to the Brazilian Navy, Marine Corps, and Army, as well as many thousands of rounds of 40mm ammunition. The company's programmable, multi-purpose 3P round has been manufactured in Brazil since 1999.
In addition to Brazil, countries currently using BAE Systems' 40mm Guns include Japan, Sweden, Finland, Iceland, Estonia, Uruguay, Indonesia, and Malaysia.
The new Mk4 weighs about 2 metric tonnes, 1.5 tonnes less than the predecessor, which means that it can be used on much smaller vessels, resulting in access to a much wider market. The Bofors 40 Mk4 naval gun system was designed to be an agile, flexible weapon systems that enable a lightning-quick response. Its low weight and compact dimensions combine with a long range and a high rate of fire. It has the capability to rapidly switch between optimised ammunition types, including programmable 40mm 3P all-target ammo.
Link to Bofors 40 Mk4 naval gun system datasheet