a
Naval Defense Industry News - France
NHI Congratulates the French Navy for Its Operational Achievements with the NH90 NFH

NHI celebrated during the Paris Air Show 2015 the operational achievements of the French Navy with the NH90 NFH "Caiman" Marine. This event took place in the NHI Pavilion in presence of vice-admiral de Tarlé vice-chief of the French Navy, and Rear Admiral Thouvenin commanding the French Fleet Air Arm in presence of the NHI Board.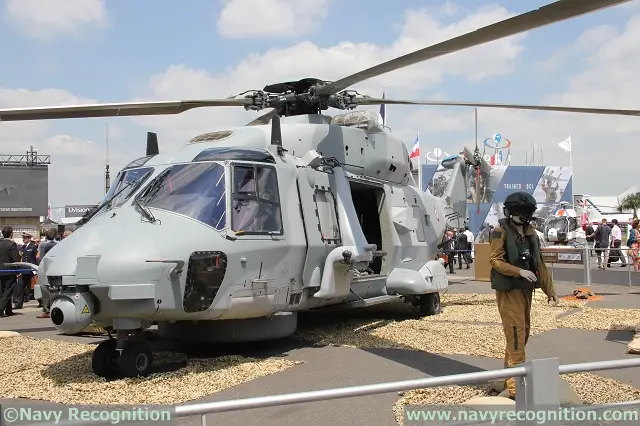 NH90 NFH (NATO Frigate Helicopter) of the French Navy at the Paris Air Show 2015

"The French Navy is the first end user to master the full range of military capabilities of the NH90 NFH" declared Vincent Dubrule President of NHIndustries.

The French Navy currently uses all the capacities of the complex weapon system that is the NH90 NFH in operation, a weapon system embodying an acoustic suite, a sonar, an ESM sensor, a Chaff and Flare system, an Electro Optic suite, a multimode naval radar, as well as a new generation MU90 Torpedo.

The Caiman Marine successfully participated to the protection of the French Carrier Battle Group during its deployment overseas for several months in the beginning of 2015.

"The NH90 program is today a success with more than 240 helicopters delivered to 13 countries and more than 80 000 flight hours performed, but this success is based on the end users who contribute every day with their return on experience to make the NH90 the best helicopter in its class" added Vittorio Della Bella Managing Director of NHIndustries.

The NH90 is the optimal choice for modern operations thanks to its large full composite airframe, its excellent power to weight ratio; and its wide range of rôle equipment. It features a redundant Fly-by-Wire flight control system for reduced Pilot's workload and enhanced flight characteristics.

The NH90 is proposed in two main variants, one dedicated to naval operations, the NH90 NFH (Nato Frigate Helicopter) and a Tactical Transport Variant for land based operations. As of today, around 245 helicopters have been delivered in Naval and Tactical transport variants. They are in service in Germany, France, Italy, The Netherlands, Sweden, Finland, Norway, Greece, Oman, Belgium, Australia and New Zealand.

The twin-engine, medium-size NH90 helicopter program is managed by the consortium NHIndustries, the Company owned by AgustaWestland (32%), Airbus Helicopters (62.5%), and Fokker (5.5%).