a
Naval Industry News - Italy
Fincantieri Launched the "Romeo Romei" Italian Navy's Last U212A Todaro-Class Submarine
On July 4th, in the presence of the Minister of Justice Andrea Orlando, the Fincantieri shipyard in Muggiano (La Spezia) hosted the launching ceremony for the "Romeo Romei" submarine, the last of the four U212A "Todaro" class twin units ordered to Fincantieri by the Central Unit for Naval Armament – NAVARM for the Italian Navy.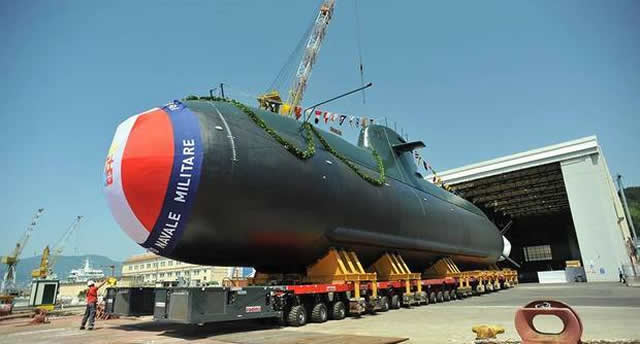 ITS Romeo Romei SSK built by Fincantieri
After the launching, outfitting works will be continued on the unit at the Integrated Naval shipyard in Muggiano (La Spezia), leading to its delivery scheduled in the second half of 2016.

The submarine "Romeo Romei", as its twin unit "Pietro Venuti" launched last October at the Muggiano shipyard, will feature highly innovative technological solutions. It will be entirely built with amagnetic material, using the most modern silencing techniques to reduce its acoustic signature.

"Romei" has a surface displacement of 1,509 tonnes, an overall length of 55.9 meters, a maximum diameter of 7 meters, and can exceed 16 knots underwater. It has a 27-person crew.