a
Naval Force News - India
Indian Navy Announced its Readiness to Test Barak-8 Air & Missile Defense System
The Indian Navy announced its readiness to test the Barak-8 air and missile defense system. The missiles will be fired from the Indian Navy newest destroyer
INS Kolkata
sometime this summer, during the monson season. The goal is to qualify the system ahead of its deployement accross several vessels in the Indian Navy fleet.
Ultimately, the Barak-8 system is expected to be fitted on board Kolkata and
Visakhapatnam (Project 18B)
class destroyers, aircraft carriers
INS Vikramaditya
and
INS Vikrant
, as well as designed the future
Project 17A
frigates. The Indian Navy is procuring the Barak-8 missile system to counter the latest anti-ship missile threats from China and Pakistan.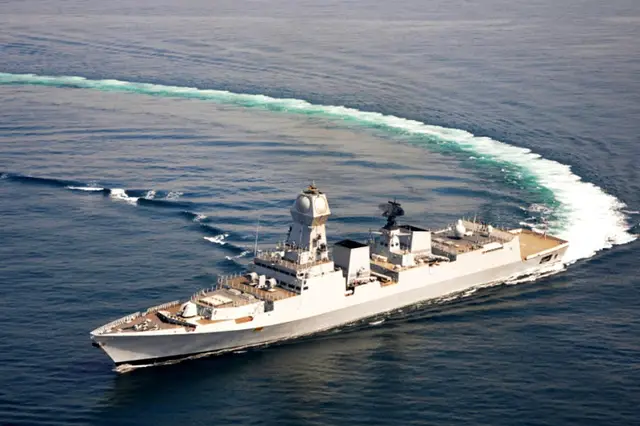 Indian Navy Kolkata class destroyers are set to be fitted with 32 Barak-8 surface to air missiles. IAI's EL/M-2248 MF-STAR radar (at the top of the main mast) is also part of the system.
According to Israel defense company IAI, Barak-8 is an advanced groundbreaking air and missile defense system that provides ultimate protection against a variety of aerial platforms, both land and naval scenarios. It is designed jointly with the DRDO (Defence Research and Development Organization) in India and is used by the IDF and the Indian defense forces. The system includes an advanced Phased Array digital radar, command and control, vertical launchers and missiles carrying a highly advanced seeker.

Barak-8 is regarded as an extensive project by the IMOD and is led by IAI, the prime contractor, in collaboration with IMOD's Directorate of Defense Research and Development (DDR&D), ELTA Systems Ltd.- IAI's group and subsidiary, RAFAEL Advanced Defense Systems, and other defense industries.

A November 2014 test validated all components of the weapon system to the satisfaction of the customer representatives. Israeli specialists and Indian scientists, including IMOD's and DDR&D's representatives participated in the test, along with both countries' armed forces officers. The scenario began with launching the target. After being detected by the System's radar, the weapon system calculated the optimal interception point, launched the Barak-8 missile into its operational trajectory that acquired the target, and successfully intercepted it. All the weapon system's components met the test's goals successfully.
Video: Barak-8 missile is launched during a land based test in Israel
INS Kolkata is the lead ship of the Kolkata-class (Project 15A) guided-missile destroyers of the Indian Navy. She was constructed at Mazagon Dock Limited (MDL), and was handed over to the navy on 10 July 2014 after completing her sea trials.

Project 15A, which involves the delivery of three destroyers, will be followed by Project 15B. 15B will be an evolution of 15A.

Kolkata class destroyers are fitted with IAI's EL/M-2248 MF-STAR radar , VLS to launch 16x Brahmos anti-ship supersonic cruise missile and 32x Barak-8 surface-to-air missiles, 4x AK-630 close in weapon systems and a 76mm main gun from Oto Melara. The class can accomodate two HAL Dhruv helicopters.