a
Naval Industry News - France / Russia
Russian Navy to Receive its first Mistral Warship in 3 Years, first two unit names announced
The first Mistral class amphibious assault ship will be put in service with the Russian Navy in 36 months, Russian Navy Commander Adm. Vladimir Vysotsky said on Wednesday.

Russia and France signed a $1.2-billion contract on two French-built Mistral class ships, including the transfer of sensitive technology, in June 2011. Two more ships are expected to be 80% built in Russia, 20% in France.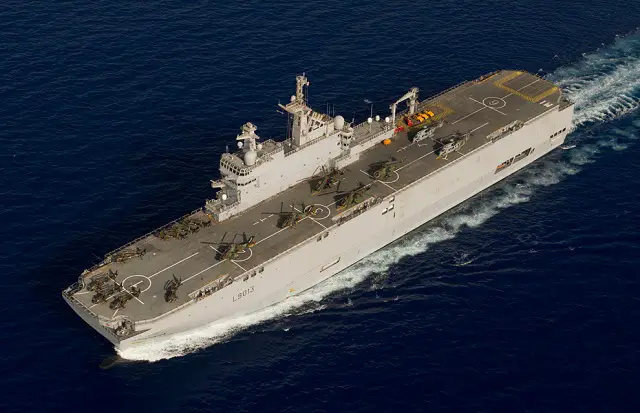 DCNS Mistral class used by the French Navy and soon by the Russian Navy
(picture: French Navy)

"The first Mistral class ship was laid down at a DCNS shipyard in Saint-Nazaire on February 1," Vysotsky said.

The French-built ships will be named Vladivostok and Sevastopol, the admiral said.

A Mistral-class ship is capable of carrying 16 helicopters, four landing vessels, 70 armored vehicles, and 450 personnel.

The Russian military has said it plans to use Mistral ships in its Northern and Pacific fleets.