a
World Naval Forces News - Russia
Russia Lays Down New Gremyashchy class Corvette (Project 20385)
A first Gremyashchy class corvette was laid down on Wednesday at Russia's Severnaya Verf shipyard in St. Petersburg, the company said. The Gremyaschy class (Project 20385) is an upgraded version of the
Steregushchy class (Project 20380) corvette
, featuring better electronics, air defenses and extended operation range.
The Severnaya Verf shipyard will build at least ten corvettes of the Gremyaschy class, the company's spokesperson Olga Vilde said.
The Steregushchy and Gremyashchy class corvettes can be deployed to destroy enemy surface ships, submarines and aircraft, and to provide artillery support for beach landings.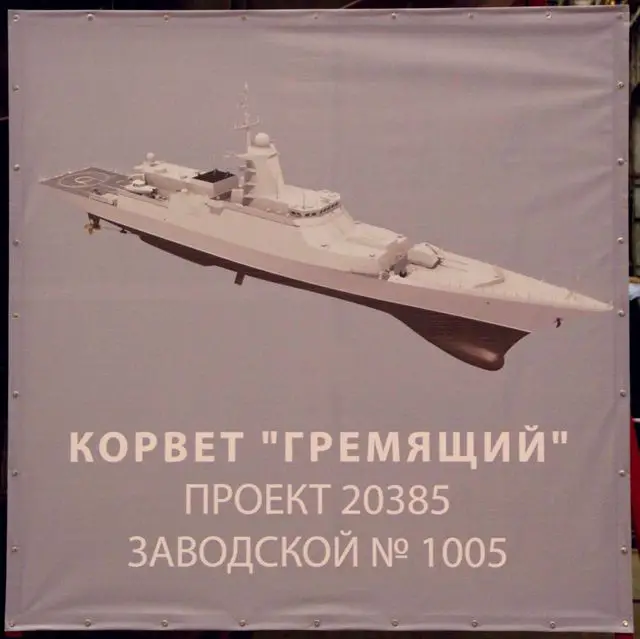 Gremyashchy class Corvette (Project 20385) artist impression for Russian Navy
(picture: internet)

The first Project 20380 corvette, the Steregushchy, was put into service with Russia's Baltic Fleet in October 2008 and the second, the Soobrazitelny, joined the Russian Navy in October 2011.

The third warship of the same class, the Boyky, is undergoing sea trials, while two more Project 20380 corvettes are under construction.

A Gremyaschy class corvette has a displacement of 2,200 metric tons, maximum speed of 27 knots, operating range of 4,000 nautical miles and a crew of 100.

The ship's armament includes SS-N-25 Switchblade anti-ship cruise missiles, a 100-mm gun, a variety of air defense and anti-submarine systems and a Ka-27 Helix ASW helicopter.

Advanced stealth technology is used to reduce the ship's secondary radar field, as well as its acoustic, infrared, magnetic and visual signatures.