a
Naval Forces News - France, USA
After Mistral Class LHD, V-22 to be Tested for Interoperability with French Navy Aircraft Carrier
On September 28, 2015, the French Navy Naval Aviation Practical Experimentation Center (
centre d'expérimentations pratiques de l'aéronautique navale
- CEPA) validated during a closing conference the interoperability between
Mistral class LHDs
and the Boeing V-22 Osprey tilt rotor aircraft. This conference embodies the result of two years of investigation and joint tests. The French Navy announced a similar campaign will be conducted with V-22 on board nuclear-powered aircraft carrier
Charles de Gaulle
.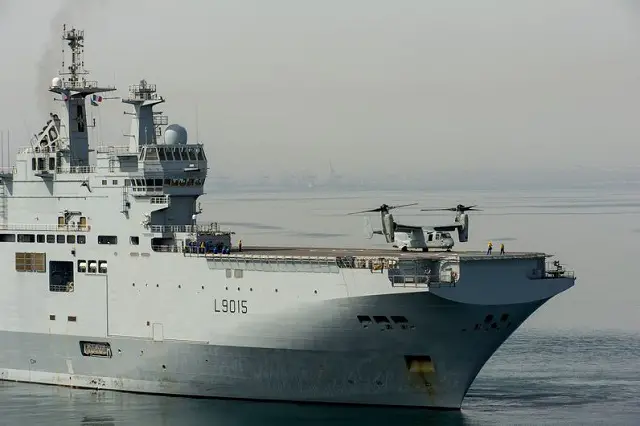 USMC V-22 Osprey during qualification trials on board French Navy Dixumde LHD (Mistral Class) in July 2015. V-22 are now fully qualified for operational missions to and from the Mistral class.
Picture: F. de Feydeau / French Navy
This conference embodies the result of two years of investigation and joint tests. The last of these tests took place in
July this year
between the Dixmude LHD and a US Marine Corps V-22 Osprey belonging to the 15th Marine Expeditionary Unit (MEU). The first trials started took place back in 2014.
With the CEPA green light, Mistral class LHDs have a new capability: Accomodation and operational mission support of V-22 aircraft.
This new capability opens the door to new interactions between the French Navy and the US Navy and Japanese Self Defense Maritime Force (JMSDF), the latter having recently acquired V-22s. CEPA will soon begin similar tests on board aircraft carrier
Charles de Gaulle
.