a
Naval Forces News - Iran
Iran's IRGC Navy Unveiled Zolfaqar Semi-Submersible Torpedo Boat

FARS News agency is reporting that Iran's Islamic Revolution Guards Corps (IRGC) unveiled for the first time a new home-made torpedo vessel named 'Zolfaqar', during an exhibition in Tehran on Saturday.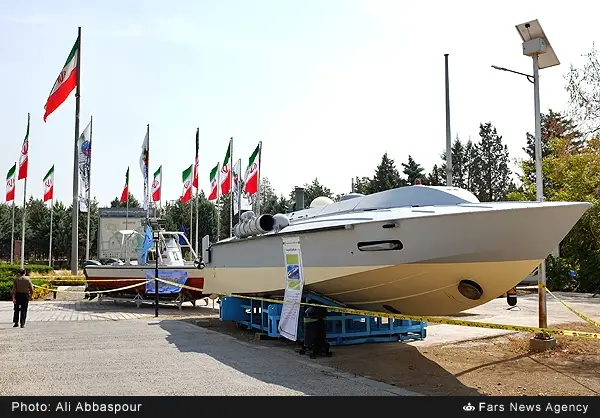 The Zolfaqar is a semi-submersible torpedo boat

The boat is 17 meters long, 3.3 meters in wide and 3.5 meters high and it weighs 22 tons. The boat is a surface/subsurface vessel and can launch torpedo attacks at enemy targets from positions (surface and subsurface).

Military experts say that the dual use boat that can sail in water at a maximum speed of over 70km/h is a hi-tech product only possessed by Iran and Russia.

The vessel is equipped with Torpedo 324 which can be used to attack aircraft carriers, surface vessels which weight 200 tons and loading and unloading docks.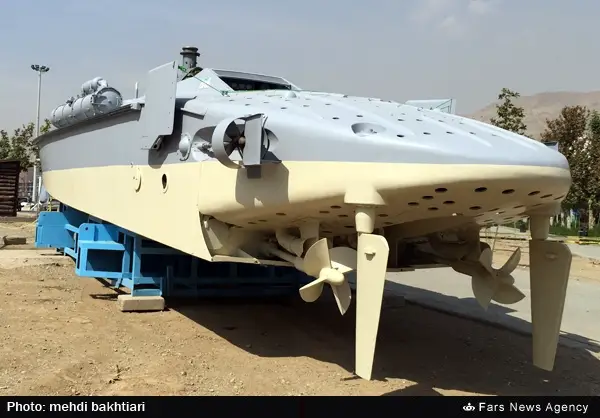 The new Zolfaqar was unveiled during an exhibition in Tehran

The IRGC plans to use the torpedo vessel in the Persian Gulf to confront any hostile move against the country.

Senior Islamic Revolution Guards Corps officials announced last year that the IRGC Navy is equipped with state-of-the-art weapons and vessels, and is one of the only two world military forces equipped with a unique torpedo which moves with unbelievable velocity.

In December, Iran's latest home-grown torpedo was fired by the Naval forces' anti-submarine SH-3D helicopters on the fifth day of the massive Mohammad Rasoulallah (PBUH) wargames in the Southern and Southeastern parts of the country.

The torpedo successfully hit and destroyed the specified sub-surface target in the waters of the Sea of Oman, Southern Iran.

According to Navy Commander Rear Admiral Habibollah Sayyari, the torpedo, test-fired recently, was used in operation for the first time.

The torpedo was in November test-fired in Jask region, Southern Iran, and can be fired from submarines, surface vessels and helicopters.

2 anti-subsurface SH-3D helicopters which were delivered to the Navy on December 1 were equipped with the torpedoes.

In recent years, Iran has made great achievements in its defense sector and attained self-sufficiency in producing essential military equipment and systems.