a
PACIFIC 2015 Show News - DCNS FREMM SEA5000
PACIFIC 2015: DCNS Unveils its FREMM Fitted with CEA Radar for SEA5000 Frigate Program
At PACIFIC 2015, the international maritime exposition currently held in Sydney Australia, DCNS shared with Navy Recognition some computer generated images (CGI) showing a FREMM multi-mission frigate fitted with CEA's CEAFAR2 radar. The conceptual images are representative of DCNS proposal for the SEA5000 program which calls for the replacement of 9 Anzac class frigates.

CEA says CEAFAR 2 will be a tri-band (S, X, L) radar with plannar arrays on an integrated mast. It will be developped (as part of SEA1448 Ph4B) by agnostic to the ship design chosen for SEA5000.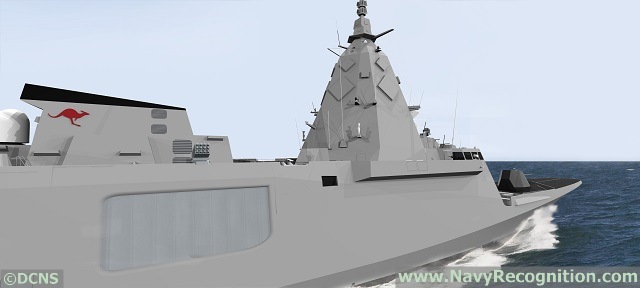 FREMM fitted with a CEAFAR2 by CEA
DCNS representative explained to Navy Recognition that the vessel shares the same hull (same engines, same displacement) based on the proven FREMM design. DCNS used its research and development work already conducted on the FREMM ER (unveiled at Euronaval 2012) to fine tune the design of the mast area for this SEA5000 proposal.

As can be seen on the CGIs, the FREMM for Australia is fitted with a 127mm main gun and a Rheinmetall Millenium CIWS gun on top of the helicopter hangar. DCNS stresses that this is "a first approach to SEA5000 with known or anticipated requirements" and that it will adapt the design and systems fit as customer requirements emmerge. This would be an easy process as FREMM was designed from the bottom up to be a modular and adaptable platform.
FREMM for SEA5000 program
The FREMM by DCNS has inherent low acoustic signature features that makes it un-matched ASW (anti-submarine warfare) performances. DCNS is the only shipbuilding company in the world with experience on the full spectrum of naval platforms: SSK, SSN, SSBN, CVN, FFG... DCNS research and development offices know about the critical requirements unique to each platform.
The FREMM is a front-line warship designed to form the operational backbone of major navies. The FREMM class can respond to all kinds of threats, whether from land, sea or air. Acting alone, a FREMM can assume a multitude of missions, from escort duties to naval gunfire support. As part of a joint task force, a FREMM can accommodate a fleet operations staff and, with an excellent C4ISR capability, can direct warfare in one or several spheres. DCNS has delivered FREMM Multi-Mission Frigates on schedule to the French Navy, the Royal Moroccan Navy and the Egyptian Navy.
Link to Aquitaine class FREMM Frigate technical datasheet