a
Naval Defense Industry News - France
ECA Group and French DGA Working on a Tethered UAV Project Similar to DARPA's TALONS
While attending Milipol 2015, the Worldwide Exhibition of Internal State Security, Navy Recognition learned that ECA Group and the French procurement agency (DGA) are working on a tethered UAV project named "virtual mast" (mature virtuelle in French). Based on the IT180-999 prototype, an electric and captive variant of the existing IT180 UAV, the project shares many similarities with TALONS. TALONS is a joint research program between DARPA and the U.S. Navy's Office of Naval Research.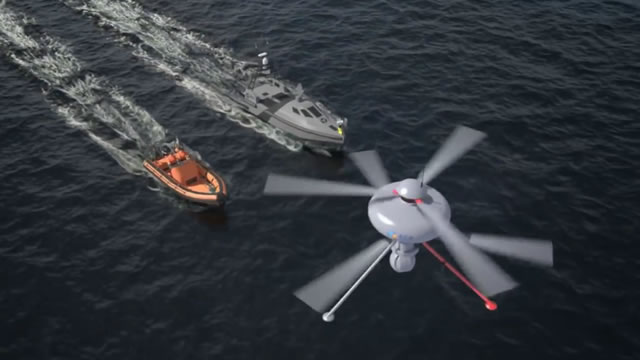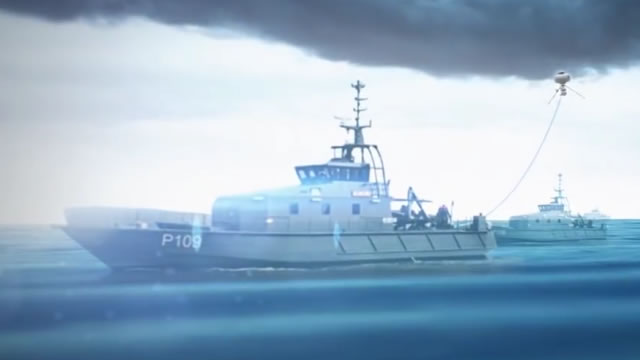 Artist Impressions of ECA Group's IT180-999 tethered UAV in naval use. Images: ECA Group
At MILIPOL 2015, ECA Group introduced the "
Unmanned Aerial Watchtower
". The IT180 captive drone (IT180-999) has been modified to connect the drone to the ground by a thin cable which unwinds from a winch on the ground. The cable supplies the drone with energy and is used for communication, turning the airborne drone into a surveillance point over a wide perimeter.
Talking to
Navy Recognition
, Francis Duruflé (Sales Manager at ECA Robotics) explained that ECA Group and the DGA will test the concept at sea from a barge in early 2016. Tests will include deployment and recovery of the UAV while the barge is in movement. The IT180-999 presented at MILIPOL was mounted on a mobile pick-up-type vehicle.
Naval applications include area surveillance (with a gimbal from DST Control featuring both day and IR sensors) as well as communications relay. With the VTOL UAV going as far as 150 meters in altitude, it is expected that radio range can be extended from 10 km to 60 km. This solution would be particularly usefull in coastal area.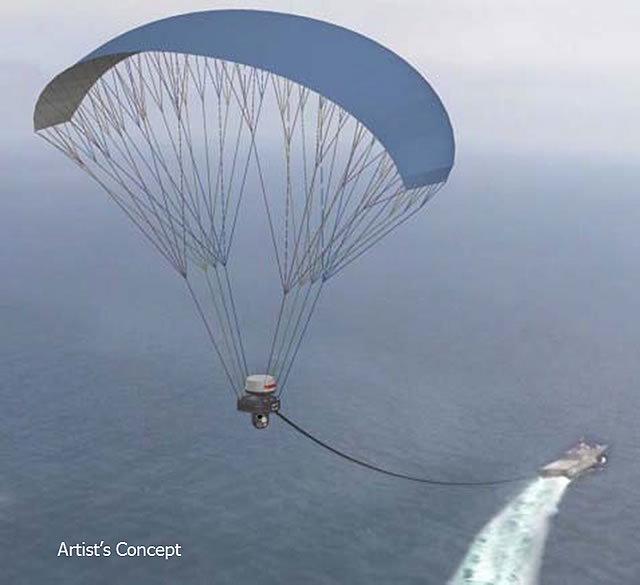 DARPA's Towed Airborne Lift of Naval Systems (TALONS)
Towed Airborne Lift of Naval Systems (TALONS):
DARPA's TALONS effort seeks to develop a low-cost, fully automated parafoil system to extend small ships' long-distance communications and improve their maritime domain awareness. Towed behind boats or ships, TALONS could carry ISR and communications payloads of up to 150 pounds between 500 and 1,500 feet in altitude—many times higher than current ships' masts—and greatly extend the equipment's range and effectiveness. Following successful ground-based tests, DARPA will conduct at-sea testing this year and potentially transition the technology to the U.S. Navy.
The concept was
recently tested
at sea.