a
Naval Forces News - Russia
Russian Navy Project 11356M Admiral Grigorovich Frigate to Test-Launch Kalibr Missiles
The Project 11356M (NATO reporting name: Krivak V-class) Admiral Grigorovich frigate built by the Yantar Shipyard has completed the first phase of its official trials and is gearing up for the second one, the shipyard's press office told TASS on Thursday.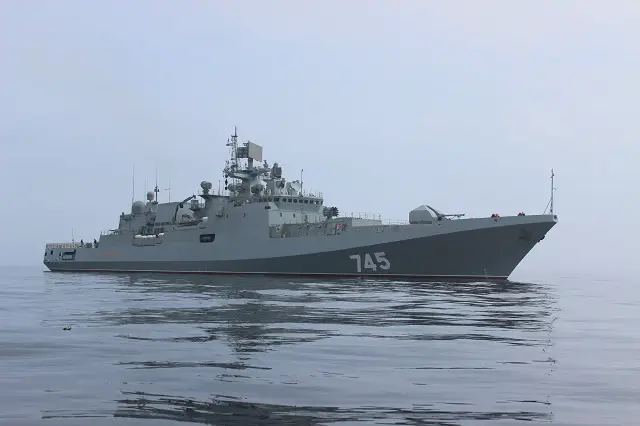 The Admiral Grigorovich class is the latest class of frigates ordered by the Russian Navy for the Black Sea Fleet. Picture: Yantar Shipyard

"The second phase of the official tests will take place at firing ranges of the Northern Fleet, where the Admiral Grigorovich is to arrive in mid-December," the press office said.

The manufacturer noted that the decision had been made by the Defense Ministry because the Baltic Sea, where Phase I was held, is not fit for testing all of the ship's weapons systems. In particular, the Kalibr-NK (SS-N-27 Sizzler) cruise missile system is to be tested in the North.

After the Admiral Grigorovich has completed its trials, it will return to Yantar for the preparations for the handover to the Russian Navy. The ship will be commissioned for service with the Black Sea Fleet and will cruise to its home station in Sevastopol.

A defense industry official has told TASS that the Admiral Grigorovich is very likely to go to Sevastopol, carrying the complete load of 3M-14 Kalibr missiles that will be tested in combat in the eastern Mediterranean.

The Admiral Grigorovich frigate is the Project 11356 lead ship laid down on December 18, 2010 and set afloat on March 14, 2014. Its official trials began on October 14, 2015. Under two orders awarded by the Russian Defense Ministry, Yantar shall build a family of six Project 11356M escort ships designed by the Severnoye Design Bureau.

The frigates in the class displace 4,000 tons, sail at 30 knots, have an endurance of 30 days and carry the Kalibr missile system with 3M-14, 3M-54 and other precision-guided missiles (the bow-mounted 3S-14 vertical launch system houses eight missiles), Uragan-1 (SA-N-7 Gadfly) multiple-target engagement-capable air defense missile system (3x12 VLS's, 24 missiles) and Kortik (SA-N-11 Grison) air defense missile/gun system (two combat modules, 2x4 SAM launchers, 32 missiles and 2x6 30-mm antiaircraft guns).

© Copyright 2015 TASS. All rights reserved. This material may not be published, broadcast, rewritten or redistributed.