a
SNA 2016 Show News - Lockheed Martin LRASM
SNA 2016: Lockheed Martin Announces Top Side Configuration for Surface Launched LRASM
At the Surface Navy Association's (SNA) National Symposium currently held near Washington DC, Navy Recognition learned that Lockheed Martin is working on a "top side" (deck mounted) configuration for its Long Range Anti-Ship Missile (LRASM) in addition to the vertically launched (from Mk-41) variant. The vertical launched LRASM was already successfully tested in September 2014.
Successful boosted test vehicle flight demonstrating LRASM missile egress, flight with existing Mk-114 ASROCK booster and Mk-41 VLS canister design.
"Lockheed Martin is preparing to compete for OASuW Increment II competition in 2017" Scott Callaway, Surface Launched LRASM Program Director, told us during SNA 2016.

In its deck mounted configuration, a LRASM launcher has the exact same footprint as a Harpoon launcher. It looks similar in form and shape as well: The LRASM missile fits inside a cylindrical canister positioned at an angle (just like the existing Harpoon launchers). The deck mounted LRASM shares the same MK 114 ASROCK booster as in the vertical launch variant. Lockheed Martin has already evaluated the console size requirements to accommodate LRASM and confirms the console would fit on the LCS frigate variant.

Navy Recognition also learned that LRASM could potentially come with land attack capability. While this capability is not part of the current (OASuW increment I) set of requirements (increment II requirements have not been released yet), we were told that a software update would provide LRASM with such capability. This is because LRASM is based on the AGM-158 JASSM (Joint Air-to-Surface Standoff Missile) standoff land attack cruise missile.

Scott Callaway concluded by telling us "Lockheed Martin is ready now for an at sea testing of LRASM in top side or Mk-41 VLS configuration".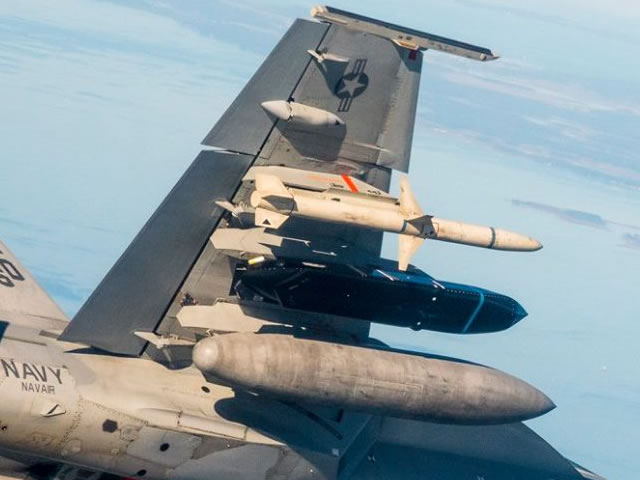 An AGM-158C Long Range Anti-Ship Missile (LRASM) model integrated on F/A-18E/F Super Hornet Jan. 6 at NAS Patuxent River, Md. The program's flight test team is conducting testing to ensure proper loading, unloading and handling of the LRASM on the F/A-18 E/F. (U.S. Navy photo)
In the meantime, the U.S. Navy's NAVAIR (Naval Air Systems Command) announced the end of the first phase of inflight loads testing for the air launched LRASM program. With load testing completed, the U.S. Navy will now focus on noise and vibration tests.
We learned during SNA 2016 that jettison and live fire testing is planned to begin in 2017 with the B-1 and F/A-18E/F. Testing will continue until the early operational capabilities declaration in 2018 and 2019 respectively.
The LRASM is a long-range subsonic cruise missile designed for better range and survivability than current anti-ship weaponry. It is carried with the wings and tail stowed and then deployed once released from the aircraft. This missile development program is a joint effort of the Defense Advanced Research Projects Agency, Naval Air Systems Command and the United States Air Force.
To learn more:
Link to LRASM Long Range Anti-Ship Missile technical datasheet