a
Naval Forces News - USA
U.S. SECNAV Names 4th Expeditionary Sea Base Ship T-ESB 4 USNS Hershel "Woody" Williams
The United States Secretary of the Navy Ray Mabus announced the U.S. Navy's newest Expeditionary Sea Base (ESB) ship, T-ESB 4, will be named USNS Hershel "Woody" Williams during a ceremony in Charleston, West Virginia, Jan. 14.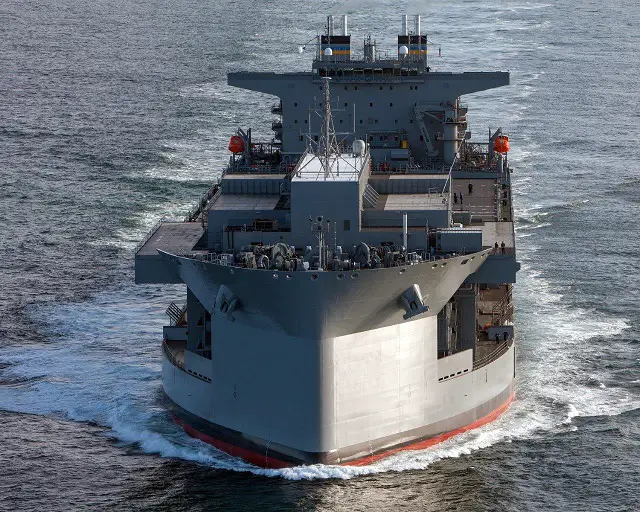 The USNS Lewis B. Puller, T-ESB 4 undergoes Builders Trials April 9th, 2015.
Hershel "Woody" Williams, the ship's namesake, was born in West Virginia and joined the Marine Corps following the attack on Pearl Harbor.

In 1944, after serving in Guadalcanal and Guam, he joined the campaign in Iwo Jima. Two days after arriving on the island, Williams picked up a 70-pound flamethrower and walked ahead of his infantry's tanks for four hours clearing their path of enemy machine gun fire. President Harry S. Truman awarded him the Medal of Honor two years later for his actions.

Williams served during the Battle of Iwo Jima until he was wounded in March of 1945. He returned to the United States, was awarded a Purple Heart and released from active duty. Later, he served in the Marine Corps Reserves for 17 years.

Williams is the last surviving Medal of Honor recipient from the Battle of Iwo Jima.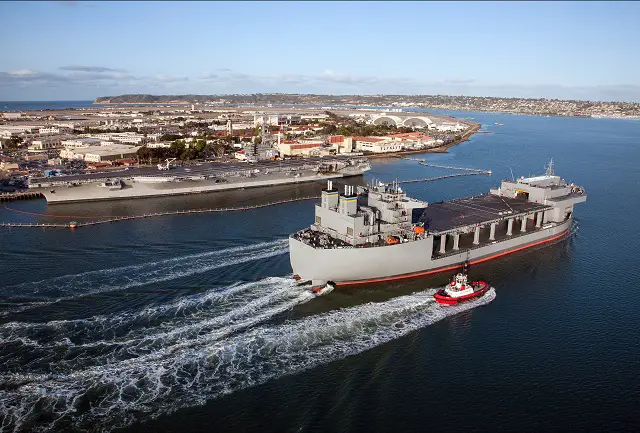 The USNS Lewis B. Puller, T-ESB 4 undergoes Builders Trials April 9th, 2015. USS Ronald Reagan (CVN-76) is moored in the background.
Formerly known as ASFB ( Afloat Forward Staging Base) the ESB modifications add a 52,000 square-foot flight deck, fuel and equipment storage, repair spaces, magazines, mission planning spaces and accommodations for up to 250 personnel. The ship is capable of supporting multiple missions including Air Mine Counter Measures (AMCM), counter-piracy operations, maritime security operations, humanitarian aid and disaster relief missions and Marine Corps crisis response. The ship is designed to support MH-53 and MH-60 helicopters, and will be upgraded to support MV-22 tilt rotor aircraft.