a
SNA 2016 Show News - L-3 MK20 Mod X EO Sensor System
SNA 2016: L-3 KEO Unveiled the MK20 Mod X Electro-Optical Sensor System
By Xavier Vavasseur
During the Surface Navy Association's (SNA) National Symposium held last week near Washington DC, L-3 KEO unveiled for the first time its MK20 Mod X Electro-Optical Sensor System (EOSS) for surface vessels. Company representatives at the show told Navy Recognition that the new system is based on the proven MK20 Mod 0 EOSS already fitted aboard U.S. Navy Arleigh Burke-class destroyers (DDG 51), Ticonderoga-class cruisers (CG 47) and U.S. Coast Guard Legend-class National Security Cutters (as well as on a number of foreign platforms such as JMSDF and ROK Navy AEGIS destroyers and Royal Australian Navy's Hobart class AWD).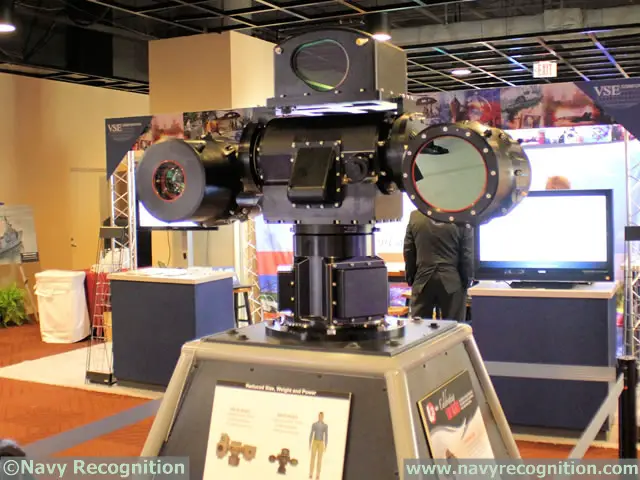 MK 20 Mod X EOSS on L-3 stand at SNA 2016 featuring a DIS (Daylight Imaging Sensors) on the left, a diode-pumpued LRF on top (for improved target tracking) and TIS (Thermal Imaging Sensor) right.
According to L-3 KEO, the next generation MK20 Mod X is designed from the ground up to provide superior operation and surveillance in a lightweight, lower cost package while supporting both Grade A and B shock requirements: L-3 representatives told us at the show that unlike most naval EO systems available on the market, the MK20 Mod X can take hits because it is rugged.

The MK20 Mod X is designed for incorporation with legacy systems, thus minimizing ship change costs. It has three primary functions:
- EOSS/Gun weapon system integration
- Automatic target detection and tracking
- Day/night video surveillance

These functions help to effectively support multiple mission requirements requiring visual detection, identification, surveillance and target assessment. The MK20 Mod X supports the following operations:
- ASuW
- AAW
- Spotting and kill assessment
- Target detection and identification
- Naval gunfire support
- Safety check-sight
- Location and track of man overboard
- Channel position and navigation

According to L-3 KEO, the new MK20 Mod X provides a 10x improvement in weapon accuracy and is 60% lighter than the currently fielded system. Finally, it is mission configurable (sensors may be swapped i.e. long wave infra red, medium wave infra red, laser designator, ELRF...).

The system is intended for Foreign Military Sales (FMS) as well as future U.S. Navy surface combatants.