a
Naval Forces News - Russia
Russian Navy Received Less Surface Vessels Than Planned in 2015
Russia's Navy received less surface ships than scheduled in 2015 over disruptions in the fulfillment of state defense order, military and naval experts said on Monday. In particular, the Russian Navy did not receive three Project 11356 and
Project 22350 frigate Admiral Gorshkov
and the Project 11711 large amphibious assault ship Ivan Gren, the experts said, referring to Head of the Navy's Ship-Building Department Captain 1 Rank Vladimir Tryapichnikov.

The project 22350 class "Admiral Gorshkov" frigate will be delivered late to the Russian Navy

"We were expected to receive 51 combat ships, a vessel and a boat in 2015 and the state defense order was fulfilled almost completely," Tryapichnikov said earlier. "Vessels that the Russian Navy did not receive in 2015 will be delivered to it in the first quarter of 2016," he added.

However, the Project 11356 frigates Admiral Grigorovich and Admiral Essen, as well as the Project 22350 frigate Admiral Gorshkov are unlikely to be delivered to the Russian Navy within the first three months of 2016. According to the experts, the Russian Navy is also unlikely to receive the Project 11711 large amphibious assault ship Ivan Gren within the first three months of the year.

According to the experts, problems may emerge with the Project 11435 heavy aircraft carrier Admiral Kuznetsov and the Project 11442 missile cruiser Pyotr Veliky whose upgrade is expected to start in late 2016 and 2018, respectively, as well as with an all-purpose amphibious assault ship with a big displacement and a nuclear-powered aircraft carrier that are expected to be constructed in 2018 and 2030.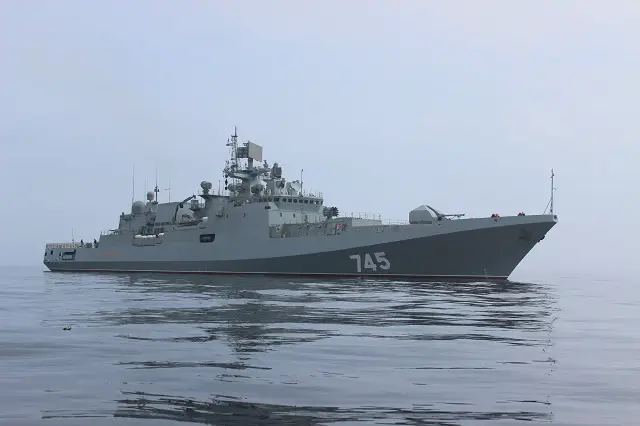 Also late: The Admiral Grigorovich class is the latest class of frigates ordered by the Russian Navy for the Black Sea Fleet. Picture: Yantar Shipyard

Also, certain problems have been registered with Project 677 Lada-class conventional submarines. According to Tryapichnikov, the air independent propulsion unit designed for Russian-made conventional submarines will be ready no sooner than 2021-2022. Air independent propulsion units of this type are likely to be mounted on advanced Kalina-class submarines. It was reported earlier that R&D works on the Kalina-class submarine had already been launched.
According to the experts, plans seem more realistic to build six Project 636.3 conventional submarines for Russia's Pacific Fleet. According to the experts, shipbuilders failed to fulfill the 2015 state defense order completely, despite the statements made by Tryapichnikov.
Russian shipbuilders did not manage to fulfill the 2015 state defense order completely over the delay in the construction and tests of ships, including frigates armed with the Kalibr missile system. According to experts, financial resources allocated for the state defense procurement program may be reduced due to new economic realities. Financing cuts may affect the Navy, in the first place. Expenditure cuts may cause delays in the construction of new ships in 2016 as well, despite statements made by Tryapichnikov who said that this year the Russian Navy would receive 42 surface ships, boats and support vessels and Russian shipbuilders would lay down 15 new vessels.
© Copyright 2015 TASS. All rights reserved. This material may not be published, broadcast, rewritten or redistributed.


Link to
Admiral Gorshkov (Project 22350) Frigate technical datasheet