a
Naval Forces News - Vietnam
Russia Delivers Fifth of Six Project 636 Diesel-Electric Submarines Ordered by Vietnam
The fifth Project 636.1 (NATO reporting name: Kilo-class) diesel-electric submarine out of the six ordered by Vietnam has been delivered to Cam Ranh in central Vietnam from the Admiralty Wharfs Shipyard in St. Petersburg onboard the Dutch lighter carrier Rolldock Star.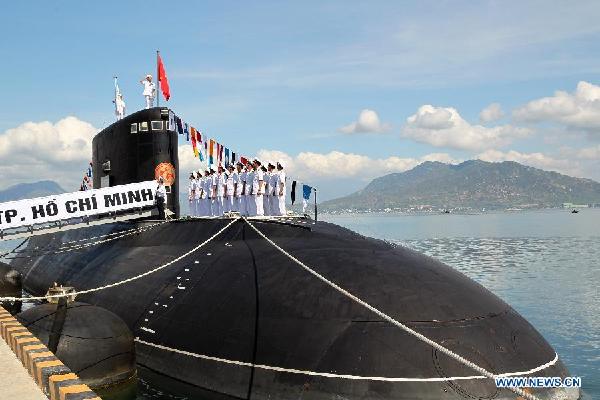 Vietnamese soldiers attend a flag-raising ceremony held for the first two submarines at Cam Ranh base, in the central province of Khanh Hoa, Vietnam, April 3, 2014. To date, Vietnam's naval forces include the first three boats supplied by Russia - the Hanoi, Ho Chi Minh and Haiphong. (Xinhua/VNA)
To date, the Vietnamese Navy has operated the four submarines in the class - the Hanoi, Ho Chi Minh, Haiphong and Da Nang. The government of the Socialist Republic of Vietnam ordered from Russia's official arms exporter Rosoboronexport six Project 636.1 diesel-electric submarines worth about $2 billion in late 2009. Vietnam has been receiving standard-issue submarines outfitted with the Club-S (export designation of the Kalibr system; SS-N-27 Sizzler) cruise missile system.

The deal is to be executed before year-end.

In addition to the submarines, Russia is building Gepard-3.9 (Gepard-class) patrol ships for the Vietnamese Navy. Besides, Russian personnel are providing technical assistance to the Vietnamese shipyards in the licence-production of Project 1241.8 Molniya (Tarantul V-class) guided missile ships.

Russia is Vietnam's old-time partner in military technical cooperation. Of late, Vietnam has awarded it orders for the latest Russian weaponry worth a total of more than $4.5 billion. In addition to the diesel-electric submarine agreement, the most lucrative of them is the Su-30MK2 multirole fighter order, which value is estimated at about $1 billion. According to the Vietnamese government, the nation's annual defense spending is around $1.5 billion - about 1.8% of its GDP.

© Copyright 2015 TASS. All rights reserved. This material may not be published, broadcast, rewritten or redistributed.