a
Naval Defense Industry News - Australia
Australian Minister for Defence Opens New CEA Technologies Facility
Australian Minister for Defence, Senator the Hon Marise Payne, has today officially opened a major extension to CEA Technologies' premises in Canberra. The new facilities will significantly enhance CEA's radar and communication systems manufacturing, testing and research and development capabilities.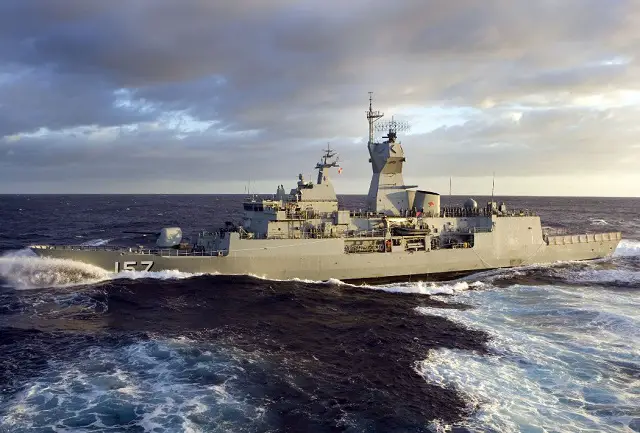 HMAS Perth (FFH 157) fitted with CEA's CEAFAR active electronically scanned array radar. CEAFAR is an active phased array radar with a unique microwave tile-based design. The combination of the microwave tile and the Digital Beam Forming (DBF) backend provides a modular, programmable and scalable solution. Picture: CEA

CEA was founded 33 years ago and is one of the largest Australian-owned private employers in the ACT. The company's advanced, indigenously developed and manufactured radar systems have won significant domestic and international orders. CEA's Co-Founder, Mr David Gaul on behalf of Chairman, Mr Peter Robson, said "As well as the opening of this new building, CEA's current facilities have undergone extension and major renovation marking a significant milestone in the company's growth."

The $1.8M fitout provides a substantial improvement in facilities and working conditions, along with extra space for planned expansion over the next three years.

The opening of this new facility in Canberra is primarily the result of sustained corporate growth, as a result of an increased awareness both here and overseas of CEA's indigenously developed Active Phased Array Radar technology.

The total floor area is nearly doubled with emphasis on improving the working environment both inside and outside the buildings including new office space and technical areas.

The radar technology that is designed and developed by this local company is being supplied to the Royal Australian Navy as part of their Anti-Ship Missile Defence (ASMD) upgrade program.

With more than half of the ANZAC fleet having received the ASMD upgrade, these ships now have radar and ship self-defence capabilities that meet or exceed that of other Navies. The Government is investing in further research and development of the radars for potential inclusion in the Future Frigate.