a
Naval Forces News - USA
US Navy Turns UCLASS Combat UAV Program into CBARS Aerial Refueling UAV
The U.S. Navy's FY17 budget request is set to transform the Unmanned Carrier Launched Airborne Surveillance and Strike (UCLASS) system into the Carrier-Based Aerial-Refueling System (CBARS).
Lockheed Martin UCLASS scale model at Sea-Air-Space 2014
The reason for the move is mainly to adress a shortfall in carrier based fighters and to free F/A-18E/F Super Hornets from their aerial refueling missions so they may focus on strike and air to air missions.

The new CBARS program will create an UAV for aerial refueling duties to extend the range of manned fighters.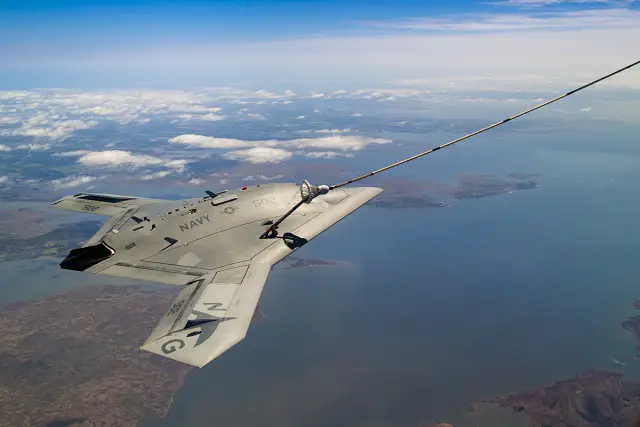 X-47B successfully completes the first autonomous aerial refueling demonstration over the Chesapeake bay on April 22 2015. (Photo courtesy of U.S. Navy)
The United States Navy's Unmanned Carrier-Launched Airborne Surveillance and Strike (UCLASS) program was to develop an autonomous aircraft carrier-based unmanned combat aerial vehicle to provide an unmanned intelligence and strike asset to the fleet.
UCLASS was succeeding to the Unmanned Combat Air System-Demonstration (UCAS-D) program which produced the Northrop Grumman X-47B demonstrator aircraft. The X-47B performed launches and recoveries from US Navy aicraft carriers at sea in 2013 and 2014. Northrop Grumman demonstrated last year that X-47B could be refuelled in the air.
According to early rumors, CBARS could retain some of the ISR mission sets originally planned for UCLASS, but for sure will lose its combat and strike abilities.
Link to X-47B UCAS-D Unmanned Combat Air System Demonstrator technical datasheet