a
Naval Industry News - Malaysia
Boustead & Royal Malaysian Navy Held the Gowind Frigate LCS - SGPV Keel Laying Ceremony
Boustead Heavy Industries Corporation Berhad (BHIC) and the Royal Malaysian Navy (RMN or Tentera Laut DiRaja Malaysia; TLDM) held today the keel laying ceremony of the first Gowind frigate Littoral Combat Ship (LCS) as part of the Second Generation Patrol Vessel (SGPV) program.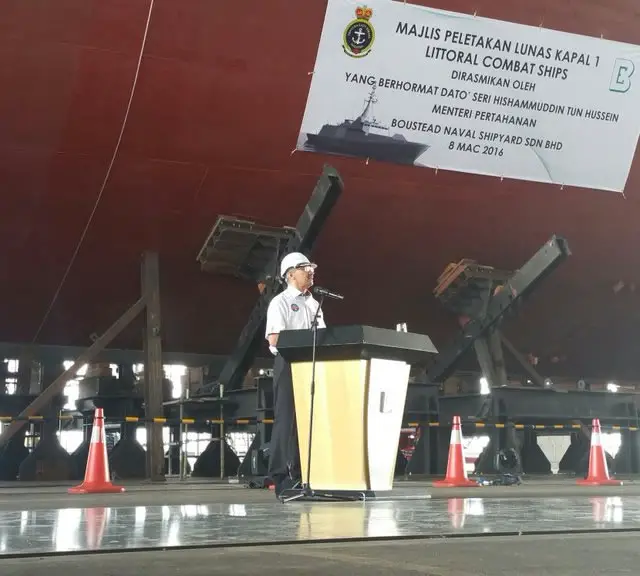 Minister of Defence of Malaysia Hishammuddin Hussein during the ceremony

The ceremony was attended by the Chief of Navy Admiral Abdul Aziz Jaafar and Minister of Defence of Malaysia Hishammuddin Hussein.

The minister of defense declared during his speech "Our Littoral Combat Ships will be delivered as scheduled !"

In early 2011, Malaysia launched the SGPV program with a budget of RM6 billion (US$1.9 billion) calling for six stealth frigates. Several foreign shipbuilders were bidding for the program. In late 2011, it was announced that the Gowind class design by DCNS had been chosen and that the SGPV program had been awarded to Boustead Naval Shipyard/DCNS.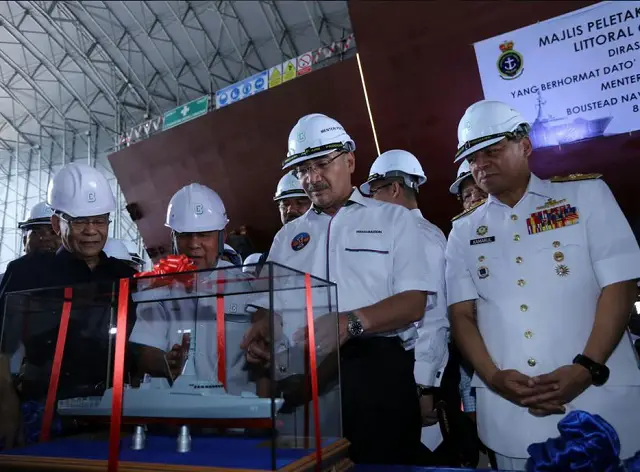 From left to right: Chief of Navy Admiral Abdul Aziz Jaafar, Minister of Defence of Malaysia Hishammuddin Hussein, Tan Sri Dato' Seri Ahmad Ramli Hj Mohd Nor BHIC Managing Director

The ceremony took place at the BHIC naval shipyard of Lumut (Perak). The shipyard has been refurbished with the advising of DCNS. The work included new ship lifts, 2 new block assembly halls, 3 new halls for panel assembly and 3 keel lines so that around 2020 the shipyard will be able to assemble 3 Gowind SGPV-LCS hulls at the same time.
The Gowind model on display at LIMA 2015 featured NSM anti-ship missile launchers

Based on the DCNS Gowind 2500 corvette design (also selected by the Egyptian Navy), the Royal Malaysian Navy future LCS will be slightly larger and thus classified as frigates. The basic specifications of the vessel have not changed compared to what was announced at LIMA 2013 with a length of 111 meters and a displacement of 3,100 tons. First ship of the class is set to be floated out and lowered in the water via a platform in December of 2018.

Navy Recognition
was the first to reveal that the class would be fitted with Kongsberg NSM anti-ship missiles.
The scale model of the vessel on display during LIMA 2015 showed the following information:
Length overall: 111.00 m
Length waterline: 105.00 m
Beam Main Deck (1st Deck): 16.00 m
Beam design waterline: 14.20 m
Depth 1st deck: 8.30 m
Design draught: 3.85 m
Propulsion: CODAD
Maximum Speed: 28 knots
Survivability: Sea State 9
Royal Malaysian Navy Gowind class Frigate / SGPV / LCS technical datasheet