a
Naval Forces News - UK
Admiral Sir Philip Jones takes over as UK Royal Navy First Sea Lord
The torch of Royal Navy leadership changed hands on April 8 as Admiral Sir Philip Jones took over as Britain's senior sailor and his predecessor, Admiral Sir George Zambellas, stepped down after 35 years' serving his nation.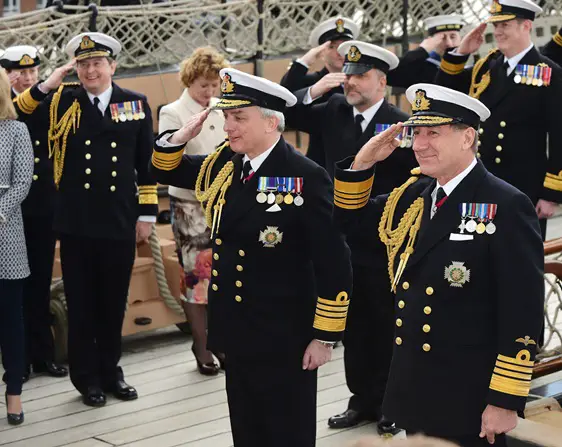 The new First Sea Lord Admiral Sir Philip Jones (centre) salutes on board HMS Victory with his predecessor Admiral Sir George Zambellas. The Second Sea Lord Vice Admiral Jonathan Woodcock can be seen saluting back left. Royal Navy picture.

In the great cabin of the world's oldest commissioned warship, HMS Victory, Admiral Zambellas formally handed over command of more than 30,000 men and women, nearly 90 warships, nuclear submarines and support vessels, the helicopters and jets of the Fleet Air Arm and the elite Naval infantry of the Royal Marines to the man who has overseen the day-to-day operations of the Royal Navy since 2013 as its Fleet Commander.

During his three-year spell in charge, Admiral Jones will oversee the aircraft carrier HMS Queen Elizabeth's entry into service. Her sister ship, HMS Prince of Wales, will begin sea trials and the world's most advanced fifth generation jet aircraft, the F-35B Joint Strike Fighter, will operate from a Royal Navy ship for the first time.

In a sign of the high regard with which the Royal Navy is viewed internationally, the ceremony was attended by the head of the US Navy, Admiral John Richardson, and US Coast Guard, Admiral Paul Zukunft, and France's Senior Naval officer, Admiral Bernard Rogel.

Admiral Jones joined the Navy in 1978, saw action in the Falklands Conflict aboard HMS Fearless – he's one of the few veterans of the 1982 conflict still in the Service – and commanded the frigates HMS Beaver and HMS Coventry.