a
Naval Industry News - Singapore
ST Marine celebrates the launch of the second Littoral Mission Vessel – Sovereignty
Singapore Technologies Marine Ltd (ST Marine), the marine arm of Singapore Technologies Engineering Ltd (ST Engineering), held the Launching Ceremony yesterday for the second Littoral Mission Vessel (LMV), Sovereignty, designed and built for the Republic of Singapore Navy (RSN).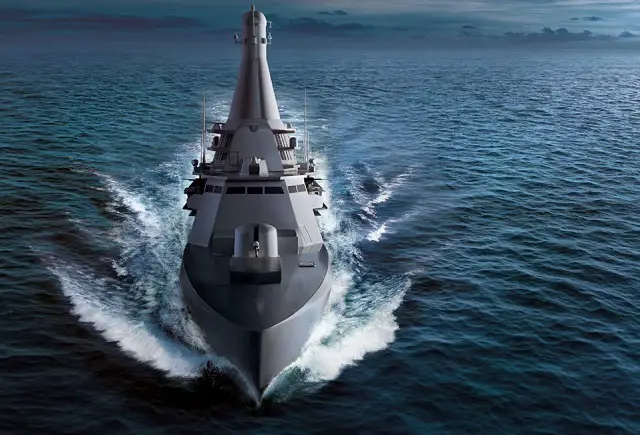 Littoral Mission Vessel. Picture: RSN

The Launch Ceremony was officiated by Mr Teo Chee Hean, Deputy Prime Minister and Coordinating Minister for National Security. Initiating the launch of the vessel at ST Marine's Benoi Yard was DPM Teo's wife, Mrs Teo Chee Hean. The event was witnessed by Dr Ng Eng Hen, Minister for Defence; Dr Mohamad Maliki Bin Osman, Senior Minister of State for Defence, and many senior officials from Ministry of Defence (MINDEF) and the Singapore Armed Forces (SAF).

The launch of Sovereignty, the second LMV in a series of eight vessels, marks another significant milestone for the LMV programme. Smarter, faster and sharper, the LMVs are highly capable warships designed and equipped with advanced combat capabilities and technologies to further strengthen the RSN's ability in the seaward defence of Singapore and protecting our sea lines of communication.

The Integrated Command Centre, where the Bridge, Combat Information Centre and Machinery Control Room are co-located, integrates and synergises the management of navigation, engineering, and combat functions to achieve greater operational effectiveness and efficiency during maritime security operations. Adopting the concept of "mission modularity", these vessels are versatile and can leverage a range of mission modules that can be reconfigured to respond to different circumstances and roles, ranging from maritime security and mine clearing, to humanitarian assistance and disaster relief operations.

Littoral Mission Vessel. Picture: RSN

Measuring 80m in length and beam at 12m with displacement of 1,250 tonnes, the LMVs are 2.5 times larger than the current Fearless-class patrol vessels (PVs) and possess better sea-keeping capabilities to operate in higher sea state conditions.

ST Marine was awarded the contract by MINDEF in 2013 to design and build eight LMVs for the RSN. The vessels are expected to be delivered from 2016. They will replace the PVs that ST Marine designed and built in the 1990s.

"Today is a continuation of an excellent and strategic relationship between the Republic of Singapore Navy and ST Marine. Being symbiotic partners and closely intertwined with each other's development, ST Marine is proud to continue this long tradition of building and supporting the finest vessels for the Republic of Singapore Navy (RSN). This success is possible only with the sterling leadership, professionalism, cooperation and commitment from the Defence Science and Technology Agency and the RSN. ST Marine will continue to strive and deliver all vessels timely and to the highest standards." ~ NG Sing Chan, President, ST Marine

The launching of the second Littoral Mission Vessel - Sovereignty, built by ST Marine for the Republic of Singapore Navy

The names of the RSN's eight LMVs are RSS Independence, RSS Sovereignty, RSS Unity, RSS Justice, RSS Indomitable, RSS Fortitude, RSS Dauntless, and RSS Fearless.

The eight Littoral Mission Vessels (LMVs) will replace the Navy's Fearless Class Patrol Vessels. The LMVs will be able to carry out maritime security operations and safeguarding of our sea lines of communication more effectively and efficiently. Although larger in size, the LMVs with the innovative design, will be able to operate with a leaner crew size. Adopting the concept of "mission modularity", these vessels are highly configurable and can embark on a range of mission modules to meet the specific mission needs. The first LMV will be delivered to the Navy in first quarter of 2016.

The LMV sensor suite will include:
Thales NS100 3D Surveillance Radar
Kelvin Hughes Sharpeye Navivation Radar
Stelop Compass D EO Director and 360 degrees all round Surveillance System

The LMV weapon systems will include:
An Oto Melara 76mm main gun
MBDA VL Mica surface to air missiles
Oto Melara 12.7mm Hitrole remote weapon stations
Rafale 25mm Typhoon remote weapon station