a
DSA 2016 Naval News - DSME
DSA 2016: DSME Showcasing Missile Corvette, 1400 Class SSK, Thai Navy Frigate & Tide class
At the DSA 2016 tri-service defence exhibition currently held in Kuala Lumpur (Malaysia) South Korean company Daewoo Shipbuilding and Marine Engineering (DSME) is showcasing several of its most recent export projects: The Missile Corvette design for Malaysia, the 1400 Class SSK for Indonesia, the DW 3000 Frigate for Thailand and the Tide class fleet tanker.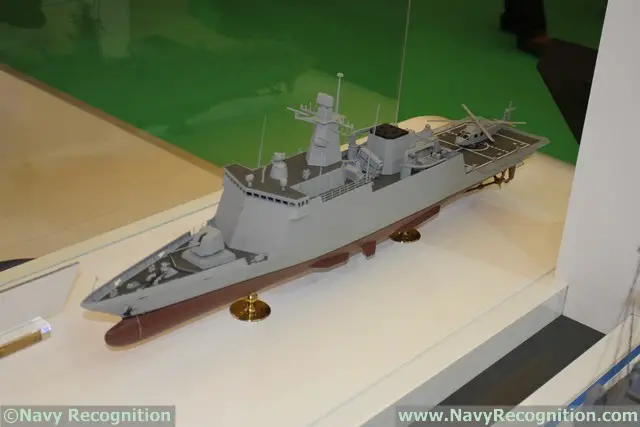 Missile Corvette
Missile Corvette
Talking to Navy Recognition, Piljoo Jang, Naval & Special Ship Marketing Department, DSME, said that the company is still waiting on the contract award. The Missile Corvette program could merge with the NGPV (next-gen patrol vessel) program as part of a new Royal Malaysian Navy plan called "15 to 5": The plan consists in moving from 15 classes of vessel to just 5 across the fleet. NGPV program calls for up to 12 vessels. Some of them could replace the early generation MEKO class.

Jang said the scale model on display is not representative of the final configuration for Malaysia. The missile corvette model shown at DSA 2016 is fitted with a 76mm Oto Melara main gun, 4x Kongsberg NSM anti-ship missiles, 2x MSI 30mm guns located aft.

There is another upcomming program for smaller vessels coming up in Malaysia called LMV for which DSME may answer with an export variant of PKX.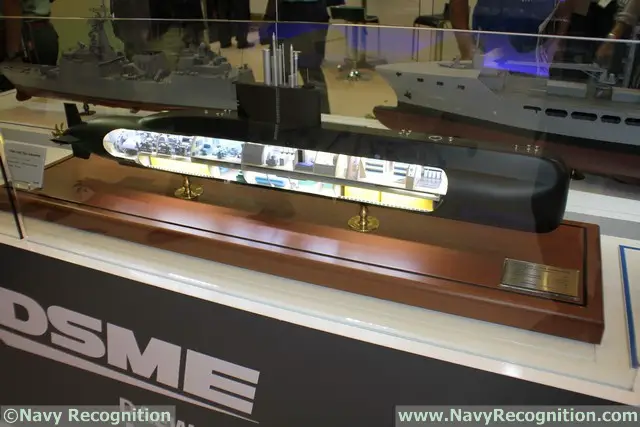 1400 class SSK
1400 class SSK
DSME is also showcasing a model of the 1400 class SSK. DSME announced on March 24 that the first of three DSME1400 class submarines it is building for the Indonesian Navy has been launched at its Okpo Shipyard.

DSME is waiting for a 2nd batch order in which it is competing against international shipyards.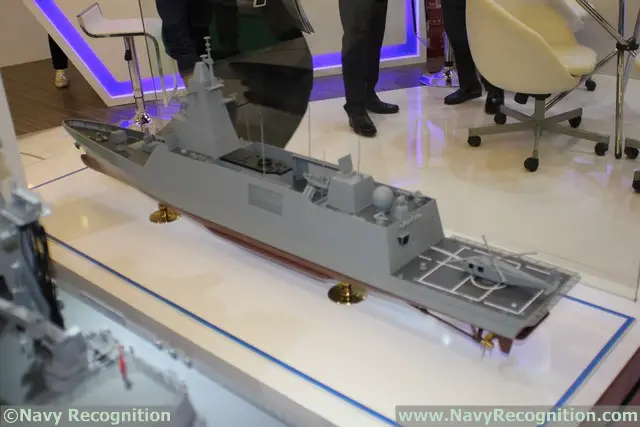 DW 3000 Frigate
DW 3000 Frigate for Thailand
DSME is also showing at DSA the DW3000 Frigate selected by the Royal Thai Navy. The displacement is about 3,700 tons. Navy Recognition learned that the keel laying will take place in mid-May 2016 and delivery is expected for March 2018. A second unit may be ordered. The model on display shows a 76mm main gun, Phalanx CIWS, Harpoon launchers, Saab SeaGiraffe radar and Atlas Electronik towed sonar.

Tide class tanker
Tide class tanker
Finally, DSME is showcasing a model of the future Tidespring, first ship of the Tide class fleet tankers for the Royal Fleet Auxiliary. The vessel will be delivered in May 2016. DSME will hold the keel laying ceremony for a smaller variant (27,000 tons compared to 40,000 tons) ordered by the Royal Norwegian Navy in June.

DSME stand at DSA 2016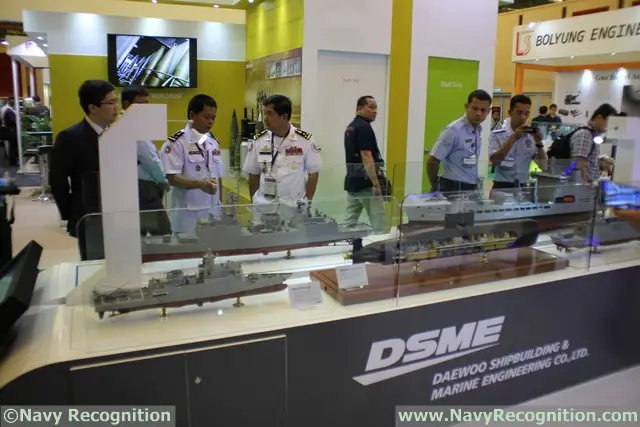 DSME stand at DSA 2016