a
Naval Industry News - France, Egypt
Alexandria Shipyard in Egypt began the construction of its first Gowind 2500 Corvette
By Stelios Kanavakis
Egypt has begun the construction of the first Gowind 2500 corvette. The start has been celebrated with the cutting of the first metal piece at Alexandria Shipyard. Representatives of the Egyptian Navy and DCNS officials attended the special ceremony.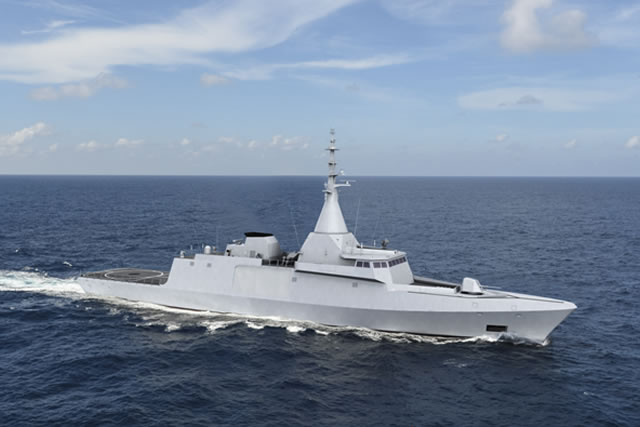 The Egyptian Navy future GOWIND class corvette. They will be fitted with 8x Exocet MM40 Block 3 anti-ship missiles, 16x VL MICA surface to air missiles (both by MBDA), Torpedoes, a 76mm main gun (Oto Melara) and 2x 20mm remote weapon stations. Image: DCNS
Cairo signed in 2014 a EUR1 billion contract for the procurement of four, plus two more as an option, DCNS Gowind 2500 corvettes. The contract included the necessary technology transfer; given that DCNS' partner Alexandria Shipyard would build three of the vessels in Egypt. The first ship of the class is already under construction at DCNS shipyards in Lorient.

The French company is assisting and supervising the construction of the vessels in Egypt and provides training to the Egyptian staff at its site in Lorient, France. Further to that, it has also dispatched supervision and technical assistance teams in Egypt.
Alexandria Shipyard cut the first metal sheet of the Gowind designed by DCNS, 2nd unit and 1st built in Egypt. Image: DCNS
The Egyptian corvettes will have a displacement of 2,500 t., a length of 102 m, beam of 16 m and draft of 3.6 m. Their maximum speed will be 25 knots and their maximum range 5,000 nm with a speed of 15 knots.

Their armament will include a 76 mm main gun, two triple torpedo tubes, two quadruple MM40 Block 3 Exocet missile launchers, two remote-controlled Nexter Narwhal 20 mm cannons and MBDA MICA IR/RF vertical launcher with 16 cells.

The sensors include a Smart-S Mk 2 radar, a Kingklip hull-mounted sonar, a Captas 2 variable depth sonar, a Vigile 200 Radar-ESM and Altesse Communication-ESM suit, all made by Thales.