a
DSA 2016 Naval News - R&S
R&S to provide integrated communications system for Royal Malaysian Navy Gowind LCS
The Royal Malaysian Navy (RMN) has selected Rohde & Schwarz to provide state-of-the-art, IP-based communications systems for its Second Generation Patrol Vessel - Littoral Combat Ships (SGPV-LCS). BNS is in progress of building the vessels in its shipyard in Malaysia based on the
Gowind
class design. The project is being implemented with local Malaysian integration capability and life time support will be handled by local Rohde & Schwarz experts.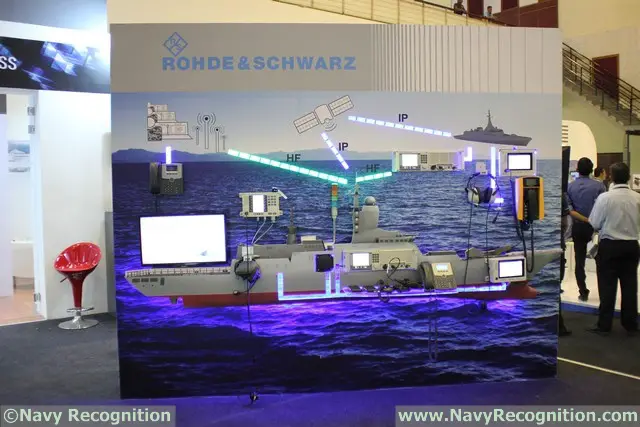 NAVICS display on R&S stand at DSA 2016
"Adopting IP-based technologies is an important step for modern naval communications," says Admiral Ahmad Kamarulzaman, Chief of Navy, Royal Malaysian Navy, "because it meets both today's and tomorrow's diverse onboard requirements. It also keeps us in step with the latest digital computing and communications technology. We are proud to bring this state-of-the-art equipment onboard our latest vessels. With Rohde & Schwarz Malaysia as our contractual partner, we can look forward to a long-lasting cooperation and are confident of achieving the local industrialization targets. This strategy will be instrumental in the lifetime support of this project with the Royal Malaysian Navy."

R&S NAVICS is the core component for the next generation of highly integrated communications systems for naval applications. The innovative solution offers pioneering technology as well as user friendliness Operation of the technically complex system is kept uncomplicated through the use of an intuitive graphical user interface (GUI). With regard to operating procedures and icons, the intuitive user interface for the voice terminals with touchscreen is based on modern smartphones. Cutting-edge display technology provides good readability. The softkey type is designed for use under rough environmental conditions, such as those which can prevail on deck or in the machine room. The R&S NAVICS, a fully VoIP-based switching system, connects on-board voice terminals and all other internal and external communications subsystems via a standardized and redundant IP network.

Scale model of Gowind LCS on Boustead stand at DSA 2016
For external communications Rohde & Schwarz supplies latest generation software defined VHF/UHF and HF transceivers from the R&S M3SR family of radios (R&S Series4400 and R&S Series4100). The system also integrates the internal communication subsystems like broadcast and alarms, ship's telephony, wireless headsets and other subsystems. The system also includes a Rohde & Schwarz onboard COMINT/C-ESM solution.