a
DSA 2016 Naval News - Antonov AN-148-300MP
DSA 2016: Antonov is showcasing the AN-138-300MP Maritime Reconnaissance Aircraft
At the DSA 2016 tri-service defence exhibition currently held in Kuala Lumpur (Malaysia) the Ukrainian pavillion (UkrOboronProm) is showcasing a scale model of the Antonov AN-148-400M "medium range maritime reconnaissance aircraft".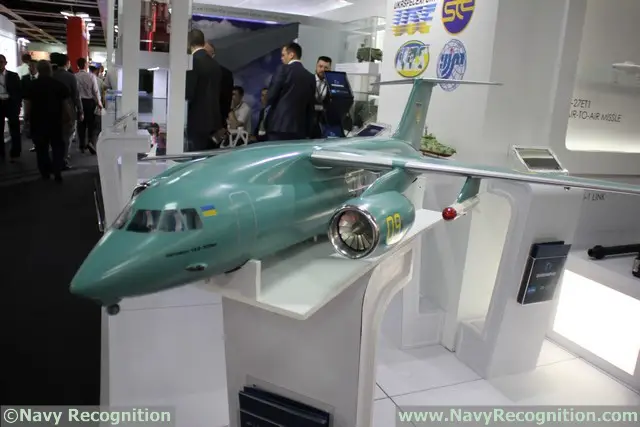 Antonov AN-148-400MP scale model at DSA 2016
A company representative explained that the aircraft is designed on the basis of long range aircraft AN-148-300. It is intended for maritime patrol and reconnaissance, electronic warfare, intelligence, pullotion response and search and rescue (SAR) missions.

While on SAR missions, it can paradrop and airdrop special recovery aids in the disaster zone from pylons under the wings and through the read side door of the cargo cabin. To monitor pollution zones, the AN-148-300MP is equipped with SLAR, MWR, IR/UV, LFS.
The aircraft can be armed with guided and unguided weapons at DSA 2016
AN-148-300MP is fitted with special mission equipment providing radar and optoelectronic search of targets on water, as well as blisters on each side of the fuselage for visual search of targets. The aircraft can be armed with guided and unguided weapons including gun container, guided anti-ship missiles and rocket pods.

The scale model on display at DSA features 2 anti-ship missiles. We were told that design bureau Luch is currently developing an anti-ship missile.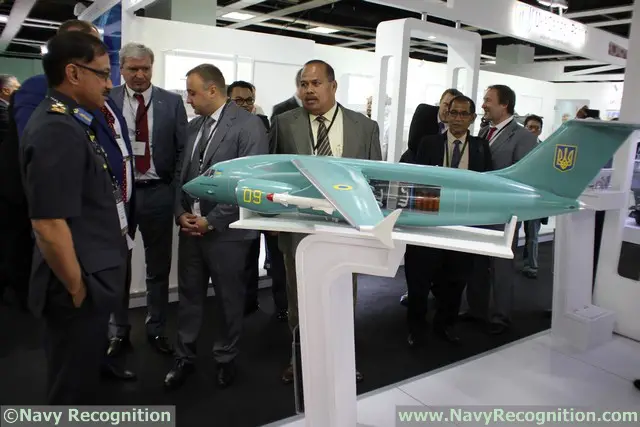 Antonov AN-148-400MP scale model at DSA 2016