a
Naval Forces News - Australia
Royal Australian Navy Final ANZAC class Frigate Readies for ASM Defence Upgrade
By RAN LEUT Gary McHugh (author), LSIS Bradley Darvill (photographer)
HMAS Stuart recently became the last of the Anzac class frigates to enter the Anti-Ship Missile Defence (ASMD) upgrade. Stuart docked at the BAE Systems Australia Henderson shipyard in Western Australia on 3 May and will remain out of the water until early March 2017.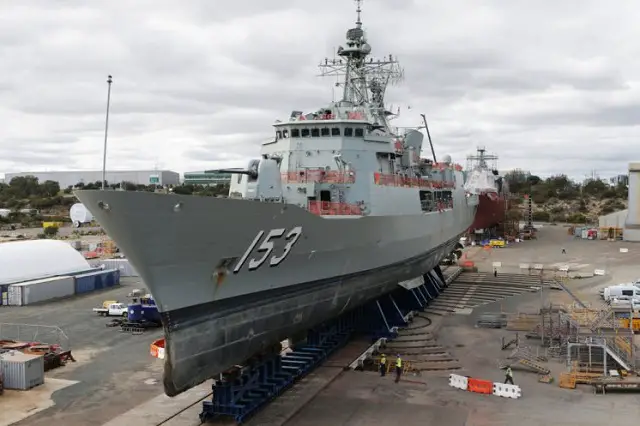 HMAS Stuart is moved onto the turntable as the ship is docked at BAE Systems Shipyard at Henderson WA, in preparation for the Anti-Ship Missile Defence (ASMD) upgrade.

During this time, civilian contractors will replace numerous systems with the latest technological upgrades and, along with Navy personnel, undertake ongoing maintenance of the vessel.

Upgrade Program Delivery Manager Lieutenant Commander Felicity Petrie said Stuart's docking marks an important milestone.

"This represents the completion of a significant body of work by a number of Navy personnel and civilian contractors across the Anzac fleet," she said.

"Stuart's upgrade will signal the end of the 'classic' configuration and herald a new era in Navy capability."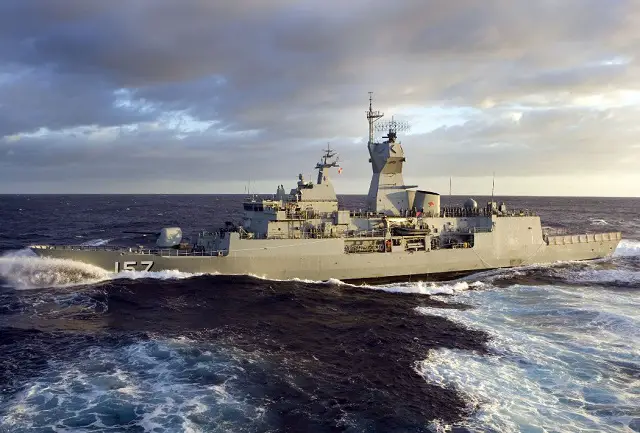 HMAS Perth (FFH 157) fitted with CEA's CEAFAR active electronically scanned array radar. CEAFAR is an active phased array radar with a unique microwave tile-based design. The combination of the microwave tile and the Digital Beam Forming (DBF) backend provides a modular, programmable and scalable solution. Picture: CEA

During the upgrade, the ship will have both mast modules removed, modified and replaced, be blasted back and repainted, and have significant sections of the combat system replaced by the upgraded Saab Systems Mk3E system.

Thousands of metres of fibre optic cables will also be installed to allow the Australian designed CEA phased array radar and other sensors to communicate with the new combat system.

"The operations room will be completely overhauled, bringing the entire Anzac fleet up to current standards for ergonomics and information display," Lieutenant Commander Petrie said.

Stuart will spend about three months less in dry dock than her sister ships, and is expected to return to service following sea and harbour trials in October 2017.

Prior to their ship docking, Stuart's ship's company swapped onto HMAS Parramatta which recently underwent a similar upgrade.