a
Focus - SEA1000 Combat System Integrator - Raytheon
Q&A With Raytheon on Combat System Integration for Australia's Future Submarines
While the Australian Government selected DCNS and its Shortfin Barracuda block 1A for the SEA1000 future submarine platform last month, a competition is still ongoing for the Combat System Integrator (CSI). Navy Recognition contacted Lockheed Martin and Raytheon to learn more about the strength of the two competitors. These are the answers from Raytheon.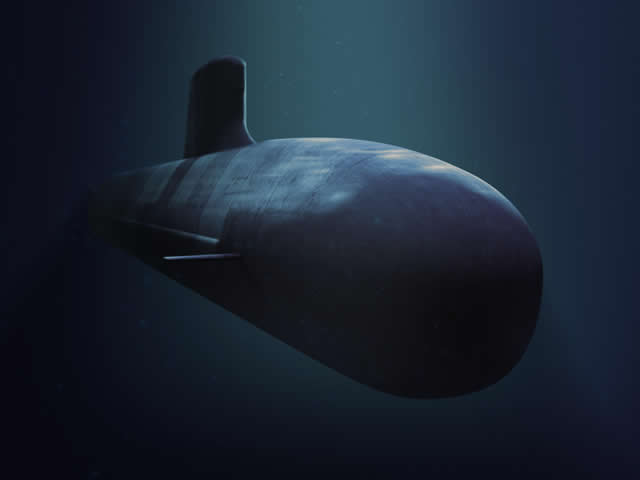 Shortfin Barracuda Block 1A. Image: DCNS
Xavier Vavasseur, Navy Recognition chief editor (NR): Should your system be selected, it will be your first time working on integration with a French shipbuilder. Do you see this as a challenge?
Raytheon Australia Managing Director Michael Ward (Raytheon): Over the past 15 years, our Australian team of Combat System Integration project managers and systems engineers have worked closely to integrate combat systems into Australia's naval vessels. These of course include the Spanish Navantia designed Air Warfare Destroyer and the Swedish Kockums designed Collins Class Submarine. We are experienced in working with international shipbuilders to design, integrate and sustain Australia's most complex and capable combat systems, and we look forward to the opportunity to working closely with DCNS on the Future Submarine.

NR: Have you discussed or worked with DCNS on the Shortfin Barracuda already?
Raytheon: During the Competitive Evaluation Process, Raytheon Australia provided support to all three CEP competitors, including DCNS. We worked closely with DCNS to define boundaries between the Future Submarine combat system and platform. DCNS staff visited our facilities in Adelaide and Sydney, and we visited DCNS in France to discuss the Program.
In our meetings we shared our expertise in key Australian unique requirements, such as how our safety and technical regulatory systems work, and how we will manage sensitive and classified data. These Australian unique requirements apply to both platform and combat system, and highlight the key role for the Australian Combat Systems Integrator will have in working with DCNS to deliver Future Submarine.
We look forward to the outcome of the CSI competition. The tempo of these discussions will significantly increase should Raytheon Australia be appointed as Combat System Integrator.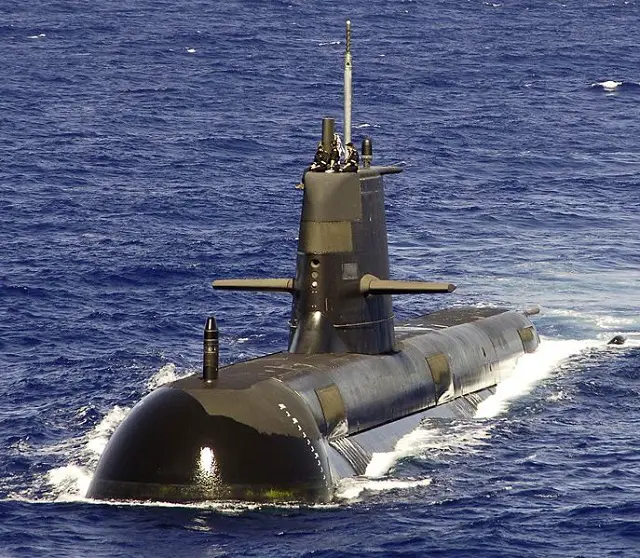 Raytheon has been working with the Royal Australian Navy to integrate and sustain the Collins Combats System successfully for over 15 years. US Navy picture of a Collins-class SSK.
NR: Will your engineers work in France at a DCNS site at some point of the program?
Raytheon: Raytheon Australia is committed to having Australians undertake the CSI role in Australia. We regard this as fundamental to our offering and critical to a sovereign Australian submarine combat system capability. This means we will not be using a fly-in fly out workforce for this activity.
However, our experience in similar programs in Australia is that having key staff resident in country with key partners can significantly reduce risks on the program. Communication and collaboration is improved, as people can more easily meet and talk face to face to resolve issues quickly.
As CSI, we will establish a resident project team of Australians in France with DCNS. Staff would rotate through these resident roles, sharing knowledge and building relationships that will help us deliver this program over the coming years.
NR: Is your combat system based on an existing/in service one? What makes it unique, what is its main advantage in your opinion?
Raytheon: The competition for Combat Systems Integrator does not seek a combat system. Defence instead seeks a partner who brings extensive skills and experience in Combat Systems Integration in Australia. The Combat System equipment - the sonar, other sensors, navigation and communications equipment - will be selected later, as part of the overall Future Submarine design process. The CSI will then work together with DCNS to integrate the selected equipment into the Future Submarine.
We are Australia's premier Combat System Integrator, with a workforce of over 500 Australians working on combat systems here in Australia today.
We are not seeking to sell our own equipment; we are product agnostic for the combat system equipment, and our trade study process will ensure that selections are made in the best interests of the Australian Navy.
We are safe hands for US combat system elements, but as an Australian CSI, we are also safe hands for Australian classified requirements and equipment.
We have been working with the Navy to integrate and sustain the Collins Combats System successfully for over 15 years. We look forward to continuing this collaboration success story with DCNS and the Royal Australian Navy for the Future Submarine.

The same quesions were asked to Lockheed Martin.
Follow this link for Lockheed Martin's answers.
The Australian Government has selected DCNS as its preferred international partner for the design of 12 Future submarines for the Royal Australian Navy. The announcement was made on April 26 2016 by the Australian Prime Minister the Hon. Malcolm Turnbull, the Minister for Defence, Senator the Hon. Marise Payne, The Minister for Industry, Innovation and Science, the Hon. Christopher Pyne and The Chief of Navy, Vice Admiral Tim Barrett. DCNS was competing with the Shortfin Barracuda design against
TKMS' Type 216
and
Japan's Soryu class
designs. Based on the French Navy
Barracuda SSN
currently in final stage of construction, the Shortfin Barracuda is 3 meters shorter (94 meters) and 200 tons lighter (4,500 tons).