a
Naval Industry News - Australia
High Frequency Broadband Antenna Install & Tuning Activity On-Board Hobart AWD
Over the last two weeks the CIS Test & Activation team, working with Production, the Combat System team, Navantia Sistemas and the antenna SME from Vigo University in Spain, successfully installed the low-band antenna portion of the HF Broadband system aboard the future HMAS Hobart of the Royal Australian Navy.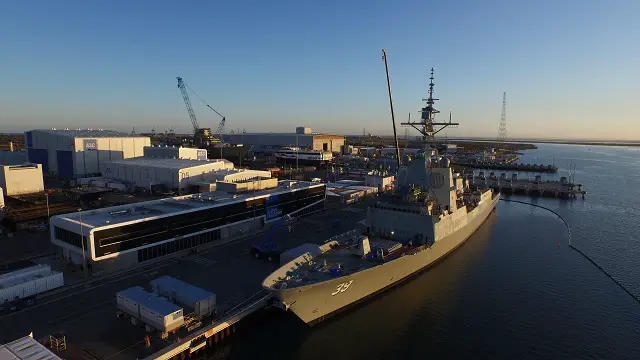 Hobart, the first of three air warfare destroyers, seen here moored at ASC shipyard at Osborne.
Picture: AWD
The low band or 'fan' antenna is a complex interconnection of cables and feeder wires connected to the length of the mast on both the port and starboard sides, requiring specialised installation knowledge and some extremely delicate crane work to install.

The High Frequency Broadband antenna or "HF-BB" component provides broadband radio transmission in the 2-30MHz frequency band. It is primarily used for long distance voice communications and complements the satellite communication systems that are also installed on Hobart to support off-ship voice communication.

Further to the successful installation of the fan antenna, "tuning" and response measurements were also conducted, revealing an excellent response for efficient transmission of RF signals off-ship. This preliminary tuning was closely supported by Production with all near field scaffolding and cranes removed for the activity.

Antenna tuning will be repeated again prior to Platform Sea Trials to optimise the antenna response once all surrounding metallic objects on and around Hobart have been removed and thus providing the optimal antenna performance.

This successful process led by the Test & Activation team has paved the way for transmission of radio frequencies through the HF-BB antenna subsystem as part of on-ship radios testing which will continue to be executed next month.