a
Naval Forces News - France, Europe
France Advocating Regular and Visible Combined EU Patrols in South China Sea
France sees the protection of freedom of the seas as critical, French Defense Minister Jean-Yves Le Drian said during the 15th Asia Security Summit held in Singapore on Sunday. He added that a loss of such rights in the South China Sea may lead to similar problems closer to Europe, in the Arctic Ocean or Mediterranean Sea.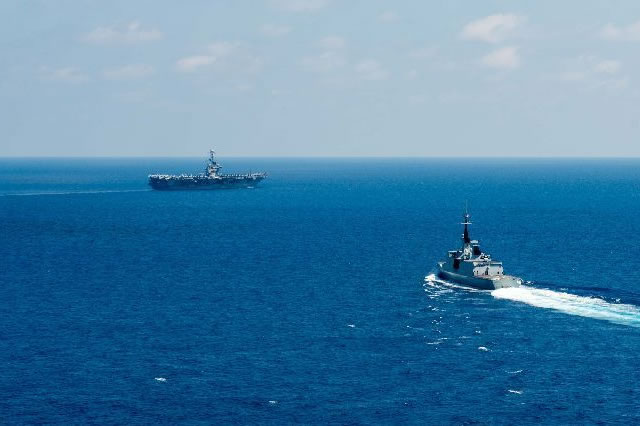 French Navy La Fayette-class frigate Guepratte (F 714) on patrol with the aircraft carrier USS John C. Stennis (CVN 74) in the South China Sea in May 2016. Picture: French Navy
According to Bloomberg, a senior French official who traveled with the minister said the country will discuss plans with EU partners in coming weeks, with a focus on guaranteeing that EU navies regularly sail the South China Sea waters.
The French Navy (Marine Nationale) routinely patrol the area. As we reported previously, this was the case this year alone in
February with FREMM Provence
, and in
May with a Floreal class frigate
, followed by a La Fayette class frigate (picture above) both sailing with US Navy aircraft carrier USS John C. Stennis. A Mistral-class LHD was also present in the area in March and April.
France would be interested in coordinating patrols with other leading European navies such as the Royal Navy so that there would be limited or no long gaps without EU presence in the South China Sea. As for the smaller EU navies, they could be integrated with French Navy task forces (as was the case with the last few French aircraft carrier deployments).
French Defense Minister said during his speech that
"France will continue to act upon, by sailing its ships and flying its planes wherever international law will allow, and wherever operational needs request that we do so."