a
Naval Industry News - South Korea
DSME Launched the Lead Daegu-class FFX-II Frigate for Republic of Korea Navy
Daewoo Shipbuilding & Marine Engineering (DSME) launched the lead ship of the new Daegu-class FFX-II frigate for the Republic of Korea Navy (ROK Navy) on June 2, 2016. Key updates of the Batch II over the
ASW-focused Batch I
include VLS and full electric propulsion system, as well as a larger hangar that can accomodate a 10-ton helicopter (FFX-I has hangar for lighter helicopters like AW159).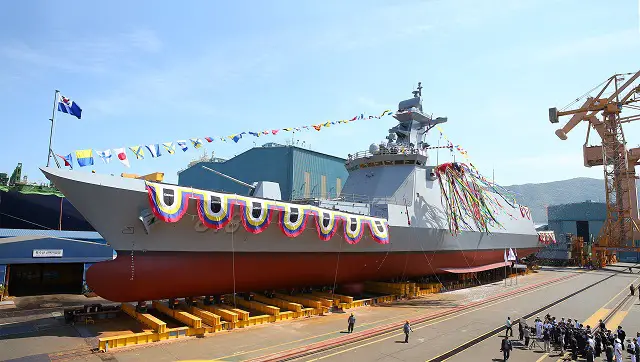 ROKS Daegu launch ceremony. DSME picture.
FFX-II is the first South Korean warship to be fitted with
DRS Hybrid Electric Drive system
, coupled with Rolls-Royce MT-30 gas turbine engine for CODLAG integrated full-electric propulsion. This configuration is shared with the US Navy's LCS and Zumwalt destroyers, as well as with the Royal Navy's QE aircraft carriers and future Type 26 GCS. In terms of engine technology and acoustic reduction technology, this makes FFX-II one of the most advanced and 'reduced accoustic signature' ASW frigates among western navies.
Contacted by
Navy Recognition
, a DSME reprensentative said that first ship of the class ROKS-818,
Daegu
will be delivered to ROK Navy in late 2017 and will be commissioned in late 2018.
FFX-II is not fitted with Mk 41 VLS buth with KVLS meaning it will deploy Korean missiles (most probably designed by LIG Nex 1).
ROKS Daegu
Daegu-class FFX-II frigate main specifications:
Displacement (Full): Abt. 2800 (3,600)
Length/ Beam: 122m / 14m
Max. Speed: 30 kts
Complement: 120 sailors
Major weapons: 5" Main gun (K Mk.45 Mod 4) / 20mm CIWS (Phalanx Block 1B) / KVLS (16 cells)
Propulsion: CODLOG

Incheon Class (FFX-II Batch-I, 6 ships)
811 – Incheon
812 – Gyeonggi
813 – Jeonbuk
815 – Gangwon
816 – Chungbuk
817 - Gwangju
Daegu Class(FFX-II Batch-II, ? ships)
818 – Daegu
819 - ??? (Tender will be open in 2016)