a
Naval Industry News - Germany, Peru
TKMS Awarded Contract to Modernize Peruvian Navy HDW 209/1200 class Submarines
Thyssenkrupp Marine Systems, a leading global system supplier for submarines and surface vessels, has received a service order worth around €40 million from the Peruvian naval shipyard SIMA. A key component of the order is the provision of consulting during the planning and realization of extensive modernization work on four HDW 209/1200 class submarines over a period of seven years. Among other things thyssenkrupp Marine Systems will perform engineering and technical services such as cutting and welding on the submarines and will make specialists available to provide local support.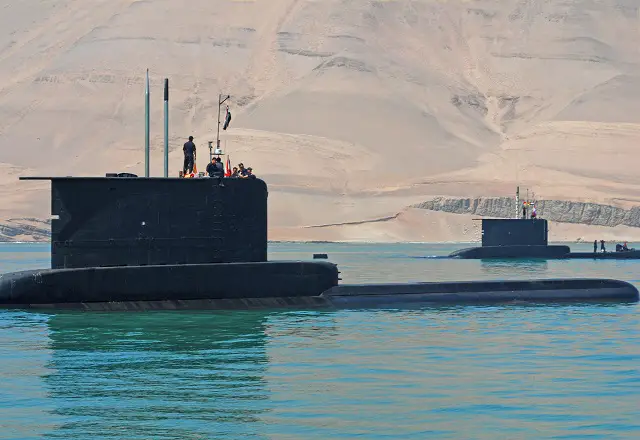 HDW 209/1200 class submarines of the Peruvian Navy (© Peruvian Navy)
Andreas Burmester, CEO of thyssenkrupp Marine Systems: "We are pleased to be continuing our cooperation with the Peruvian navy. We have consistently expanded our service business over the years to be a reliable partner to our customers over the entire life cycle of naval vessels and submarines. This order shows we are on the right track."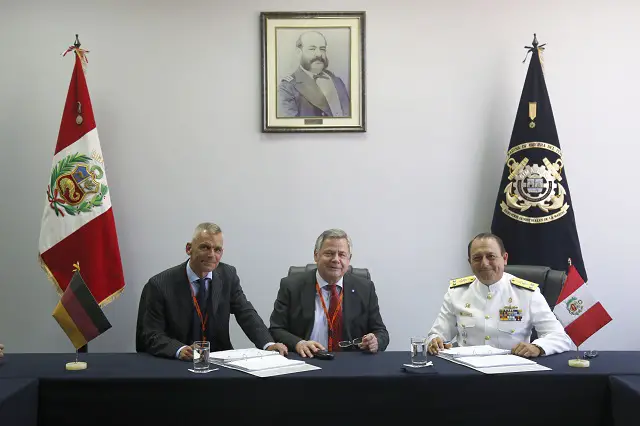 Signing the contract in the Peruvian port city Callao (from left): Matthias Bergande
(thyssenkrupp Marine Systems, Head of Services, Repair, Modernisation), Hanspeter Hartmann
(thyssenkrupp Marine Systems, Member of the Executive Team) and Contralmirante Silvio Javier
ALVA Villamón (SIMA-PERÚ S.A., Executive Director). (© thyssenkrupp Marine Systems)
The four submarines – named Angamos, Antofagasta, Pisagua and Chipana – were built in the early 1980s at the thyssenkrupp Marine Systems shipyard (at that time HDW – Howaldtswerke-Deutsche Werft GmbH) in Kiel and have been used by the Peruvian navy ever since, forming the backbone of the Peruvian submarine fleet.