a
Naval Forces News - Russia
Second Project 11356 Frigate Admiral Essen Commissioned with Russian Navy
The first production-standard Project 11356 frigate - the Admiral Essen - has been commissioned for service with the Russian Navy. The Russian Navy flag was hoisted onboard the frigate in a ceremony on the premises of the Yantar Shipyard in Kaliningrad. The ship will be assigned to the Black Sea Fleet.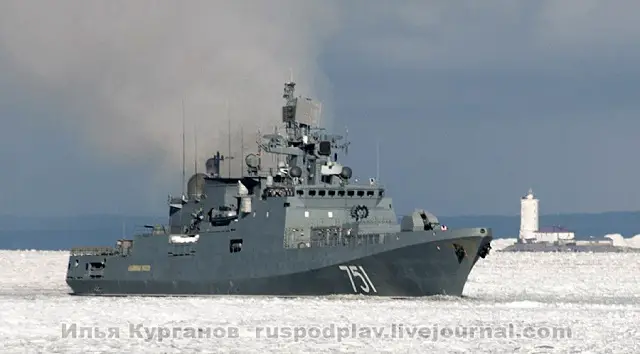 Russia' Second Project 11356 Frigate Admiral Essen. Picture: ruspodplav.livejournal.com

"We are very pleased with the ship. It has a balanced weapons suite - an artillery system, the sophisticated Kalibr [NATO reporting name: SS-N-27 Sizzler] missile system and a well-balanced up-to-date Shtil-1 [SA-N-12 Grizzly] surface-to-air missile system," Navy Shipbuilding Department Chief Vladimir Tryapichnikov told journalists after the ceremony.

Defense Ministry officials, naval officers, United Shipbuilding Corporation leaders and descendants of Admiral Nikolai von Essen, after whom the frigate is named, attended the flag-raising ceremony too.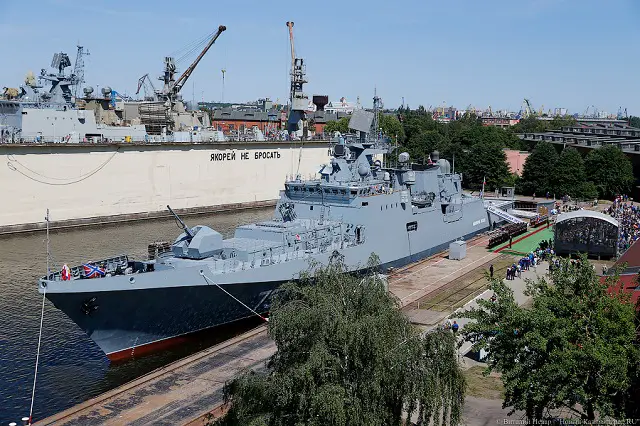 Delivery ceremony of Frigate Admiral Essen

The frigate was laid down on July 8, 2011 and launched on November 7, 2014. Its official tests took place in the Baltic and Barents seas and were completed on May 30 this year.

The Black Sea Fleet is to receive six Project 11356 frigates. The lead ship of the family, the Admiral Grigorovich, was delivered on March 11, 2016. The third frigate in the class, the Admiral Makarov, is scheduled for delivery in the third quarter f this year.

Project 11356 firgates are equipped with 100mm A-190 naval gun, Kalibr-NK (SS-N-27 Sizzler) cruise missiles, Shtil/Shtil-1 (SA-N-7 Gadfly/SA-N-7C Gollum) naval surface-to-air (SAM) systems, torpedoes and one Ka-27 (Helix) helicopter (optionally). Project 11356 frigate has a draft of 3620 t, a length of 124.8 m, a maximum speed of 30 kt and a range of 4850 nm.

© Copyright 2016 TASS. All rights reserved. This material may not be published, broadcast, rewritten or redistributed.