a
Naval Industry News - Russia
Russian Krylov State Research Center Developing Priboy-E / UDK-E LHD for Export
Russian Krylov State Research Center (Russian acronym: KGNC) has developed export-oriented UDK-E (E stands for export-oriented, Eksportny) Priboy-E landing helicopter dock (LHD), according to the KGNC`s Deputy Director, Valery Polyakov. "The specialists of the Krylov Center has developed the project of an LHD in the interest of a foreign customer. It is dubbed Priboy (Surf)," Polyakov said.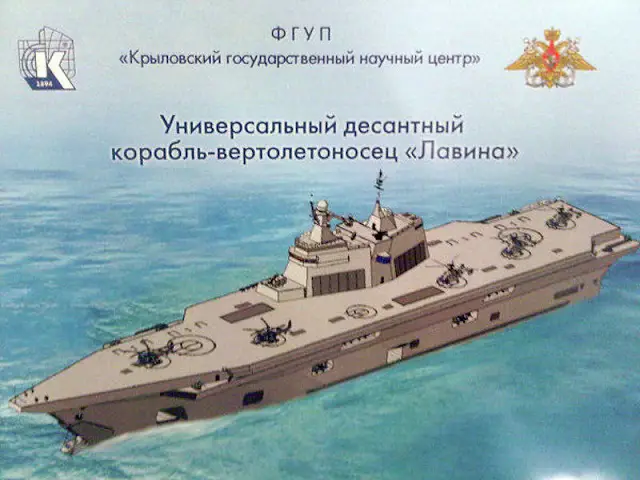 Image showing Krylov Central Scientific Research Institute's Avalanche (Lavina) Project with the official seal of the Russian Navy.
According to him, the KGNC has developed the Priboy LHD on its own initiative. It is significantly different from the Mistral landing helicopter dock designed by French DCNS. Priboy is intended for seaborne movement of troops and military equipment and landing on beaches during amphibious operation in conjunction with other naval forces. It can support shipping of soldiers and hardware, take part in offensive mining actions and mount sonar beacons of suspended array surveillance systems.

Priboy has a normal surface displacement of 23,000 t, a length of 200 m, a width of 34 m, a designed draft of 7.5 m, a full speed of 20 kn, a cruise speed of 14 kn, an endurance of 6,000 nmi or 30 days. The LHD can withstand storms of force 6-7 on the Beaufort scale (strong breeze/near gale).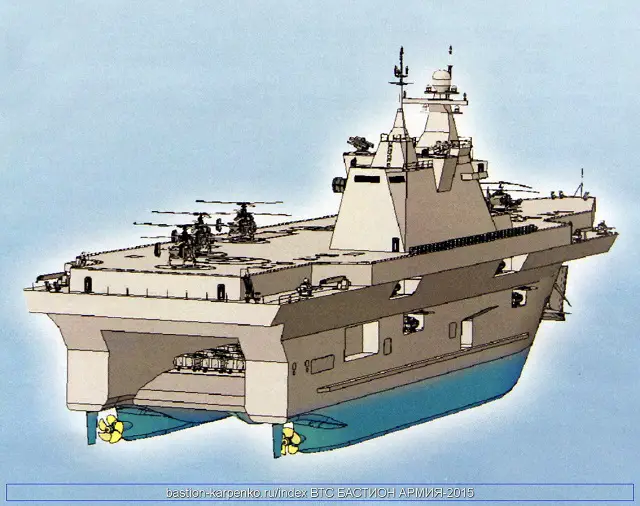 Image showing Krylov Central Scientific Research Institute's Avalanche (Lavina) Project

The ship has a crew of 400 sailors and can transport 500-900 soldiers, about 50 infantry fighting vehicles (IFV) and 10 main battle tanks (MBT).

Up to 12 military-transport and search-and-rescue (SOR) helicopters can be based on Priboy. The ship incorporates six fast landing craft with 45 t lifting capacity each and six assault boats located on davits.
Polyakov pointed out that Priboy is equipped with tactical-level integrated combat management system. The LHD features electronic warfare (EW) and hydroacoustic hardware that includes three-axis detection radar, navigation system, integrated EW and communication suites and underwater sabotage forces detection system.

The Priboy`s armament suite includes two anti-air gun-missile combat modules, two close-in weapon systems and one 76mm naval gun.

Polyakov emphasized that the aforementioned specifications "are subject to change in accordance with the requirements of a foreign customer in the area if the ship`s armament suite and equipment".

The refusal of Paris to supply two Mistral-class LHDs (namely, 'Vladivostok' and 'Sebastopol') to Moscow boosted the development of such ships by Russian defense industry. The conflict in Syria have apparently demonstrated that landing helicopter docks are in high demand. The victory over even such weak adversary as Islamic extremist groups is impossible without air and sea control.

During the development of the LHND concept, the specialists of KGNC estimated the Russian defense industry`s capabilities to implement such projects. "We have concluded that human resources and technological capabilities of Russian maritime industry allow commencing of major surface combatants building (including LHDs) after limited modernization of productive facilities," Polyakov pointed out.

© Copyright 2016 TASS. All rights reserved. This material may not be published, broadcast, rewritten or redistributed.