a
Naval Industry News - Singapore, Oman
ST Marine celebrates the Interim Delivery for the fourth & last patrol vessel to Royal Navy of Oman
Singapore Technologies Marine Ltd (ST Marine), the marine arm of Singapore Technologies Engineering Ltd (ST Engineering), today held the Interim Acceptance ceremony for the Patrol Vessel (PV) RNOV Khasab. This is the final, in a series of four vessels, designed and built for the Royal Navy of Oman (RNO). The Guest of- Honour was the Consul General for the Oman Consulate for the Republic of Singapore, HE Zakariya Hamed Hilal Al Saadi.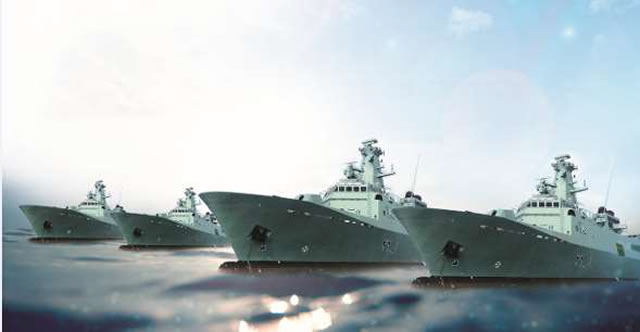 A series of four patrol vessels designed and built by ST Marine for the Royal Navy of Oman,
namely RNOV Al-Seeb, RNOV Shinas, RNOV Sadh and RNOV Khassab

The contract for the design and build of the four Al-Ofouq class of PVs was awarded by the Ministry of Defence of the Sultanate of Oman in April 2012. It was the largest defence export contract in ST Engineering's history. These four vessels will replace the Sultanate's current four Seeb class PVs commissioned in the early 1980s.

The Al-Ofouq vessel is designed and built based on ST Marine's proprietary 75m Fearless-class patrol vessel. Measuring 75m in length, breadth at 12.5m and displaces approximately 1,250 tonnes, the vessels can accommodate 60 crew and is equipped with a flight deck to support the operation of a medium lift-helicopter. Armed with modern weapons and sensors and equipped with a state of art combat management system, the PVs are most suited for a variety of maritime missions.

The Al-Ofouq vessels are named after various cities along the Oman coastal area. Al-Seeb is a coastal fishing city, located several kilometers northwest of Muscat, in the northeastern Oman; Shinas is a coastal town in northern Oman, Sadh is located in Salalah; and Khassab is a coastal city located in Musandam Governorate and overlooking the Strait of Hormuz.

The first PV, RNOV Al Seeb has been successfully delivered. The second, RNOV Shinas has completed her live firing trials in Oman last November 2015. The third, RNOV Sadh had arrived in Oman on 17 March 2016, had completed her live firing trials in April 2016. Both are currently preparing for hot-weather trials by 2Q2016.