a
Naval Forces News - Russia
All large Russian Navy ships of 1st and 2nd rank may get nuclear power plants

Defense contractors and the Russian Navy are looking into the feasibility of fitting all 1st- and 2nd-rank warships with nuclear main propulsion plants, according to the Lenta.ru online news agency. The decision is owing to Russia's developing and making its own nuclear power plants, thus being independent of their import.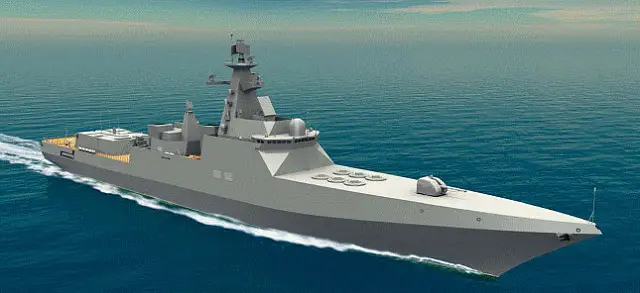 Twelve ships of the 10,000t "Leader class" are planned to enter service from 2023-25, split between the Northern and Pacific Fleets. They will all be nuclear powered. They will be fitted with the ABM-capable S-500 SAM and Kalibr (SS-N-27) cruise missile. Image for illustration purpose only:
Severnoye Design Bureau Project 21956 class destroyer.

"We are talking a family of standardized power plants for surface ships with the displacement ranging from 4,000 tons (frigates) to 80,000 tons or more (aircraft carriers). The nuclear power plants are supposed to generate 40-200MW. Since the Navy's requirement for 1st- and 2nd-rank ships in 20 years is estimated at 40, it would not be a problem to make this many power plants," a source told Lenta.ru.

Ships of a smaller displacement (corvettes, patrol ships, guided missile craft) as well as boats and amphibious assault ships may be equipped with the diesel power plants that have entered production in Russia. Diesel engines also may be used as auxiliary power units by 1st- and 2nd-rank ships.

The damage done by the severing of the ties with Ukraine that had made gas-turbine power plants for Soviet and then Russian warships for decades will be hard to undo in the short term. Ships have to be built right now; there is no time to lose, given the growing obsolescence of the Soviet-built ships; and, while planning the construction of warships, Russia has got no right to count on a speedy restoration of its relations with Ukraine. In this situation, the development of advanced nuclear power plants is designed to hedge its bets.

At present, nuclear power plants propel Russia's Project 1144 (Kirov-class) and Project 11442M heavy missile cruisers, submarines and icebreakers. The propulsion plant of the Project 22220 icebreakers, which is wrapped around the new-generation RITM-200 reactor, is called a prototype of the nuclear power plants of 1st-rank ships. As was reported in the press, the Navy went for nuclear propulsion plants for its future Project 23000 Shtorm-class aircraft carrier and Project 23560 Leader-class destroyer.

The ships of the second rank in construction for the Russian Navy were supposed to be fitted with gas-turbine power plants, but the collapse of the military-technical cooperation with Ukraine has brought into question the commissioning dates for the Project 22350 (Admiral Gorshkov-class) and Project 11356 (Admiral Grigorovich-class) frigates.

© Copyright 2016 TASS. All rights reserved. This material may not be published, broadcast, rewritten or redistributed.