a
Naval Defense Industry News - USA
Raytheon's AN/SPY-6(V) AMDR prepares for live target testing
Raytheon Company delivered the first AN/SPY-6(V) Air and Missile Defense Radar array to the U.S. Navy's Pacific Missile Range Facility in Hawaii ahead of schedule. The array is now being installed according to plan, in preparation for first radar light-off in early July. SPY-6(V) is the next-generation integrated air and ballistic missile defense radar for the U.S. Navy, filling a critical capability gap for the surface fleet.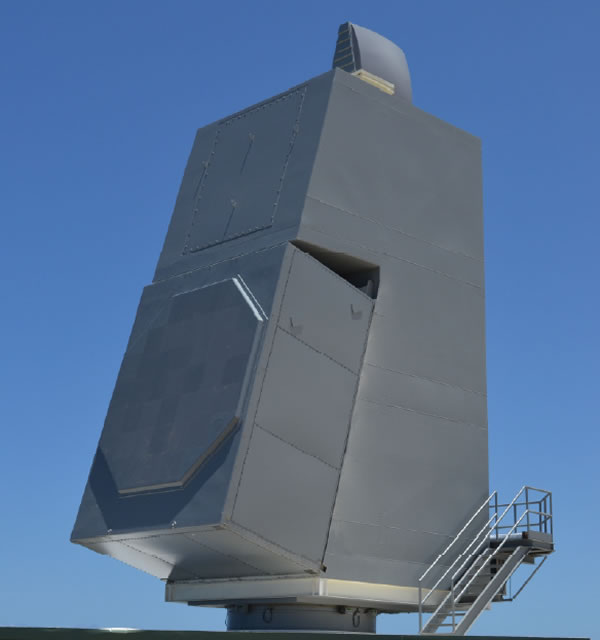 AN/SPY-6(V) Air and Missile Defense Radar array at the U.S. Navy's Pacific Missile Range Facility in Hawaii. Picture: Raytheon

"Several months of testing at our near-field range facility, where the array completed characterization and calibration, have proven the system ready for live target tracking," said Raytheon's Tad Dickenson, AMDR program director. "The array was the last component to ship. With all other components, including the back-end processing equipment, delivered earlier and already integrated at the range, AMDR will be up and running in short order."

"The extensive testing to date has demonstrated good compliance to the radar's key technical performance parameters," said U.S. Navy Captain Seiko Okano, major program manager, Above Water Sensors (IWS 2.0). "The technologies are proven mature and ready for testing in the far-field range, against live targets, to verify and validate the radar's exceptional capabilities."
Video: Interview on AMDR during Sea Air Space 2016

About SPY-6(V) AMDR
SPY-6(V) is the first scalable radar, built with RMAs - radar building blocks. Each RMA, roughly 2' x 2' x 2' in size, is a standalone radar that can be grouped to build any size radar aperture, from a single RMA to configurations larger than currently fielded radars. All cooling, power, command logic and software are scalable, allowing for new instantiations without significant radar development costs.

Providing greater capability – in range, sensitivity and discrimination accuracy – than currently deployed radars, SPY-6(V) increases battlespace, situational awareness and reaction time to effectively counter current and future threats. Designed for scalability, reliability and ease of production, SPY-6(V) incorporates innovative and proven technologies, including RMAs, digital beamforming and Gallium Nitride (GaN), to offer exceptional radar capabilities to fit any ship for any mission.