a
Naval Forces News - China
Pictures of China's future Type 055 Destroyer first construction blocks may have emerged
Interesting pictures have emerged from China showing what could well be the first construction blocks of the People's Liberation Army Navy (PLAN or Chinese Navy) future Type 055 Guided-Missile Destroyer (DDG).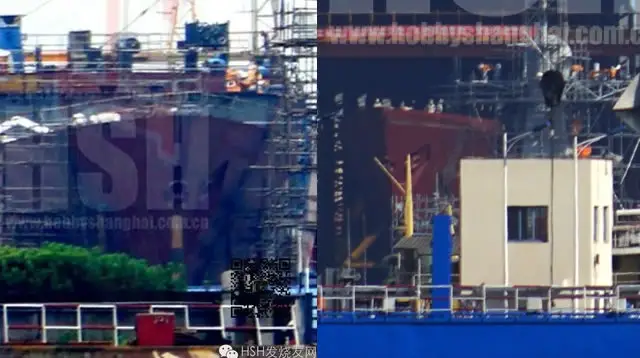 Bow section of what could be Type 055 (left) compared to a similar picture showing the bow section of a Type 052D (right) . Note that the hanchor pockets are in a lower position on what is thought to be the Type 055 destroyer.
The pictures were reporedly taken at the Jiangnan Changxing naval shipyard located near Shanghai. They show the bow section and stern section of what we think is the first Type 055 hull.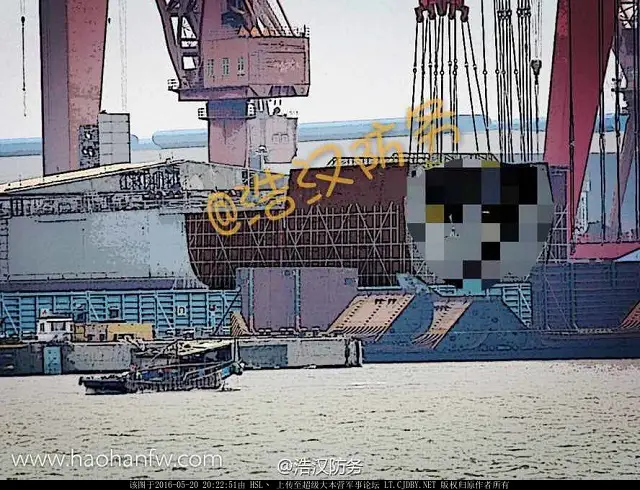 Large aft section module showing an helicopter pad (left) and hangar (right) at Jiangnan Changxing naval shipyard. (Picture via plarealtalk.com)
The Type 055 guided missile destroyer is the next generation destroyer designed for the People's Liberation Army Navy (PLAN or Chinese Navy). According to Chinese media, the Chinese government awarded the contract for construction of the first ship of the class to Changxing Jiangnan shipyard. According to the same sources, the second Type 055 destroyer will be built at the Dalian naval shipyard (Dalian Shipbuilding Industry Company member of CSIC - China Shipbuilding Industry Corporation). The first keel is rumored to have been layed in
December 2014
.
To learn more:
Link to Type 055 Destroyer technical datasheet.